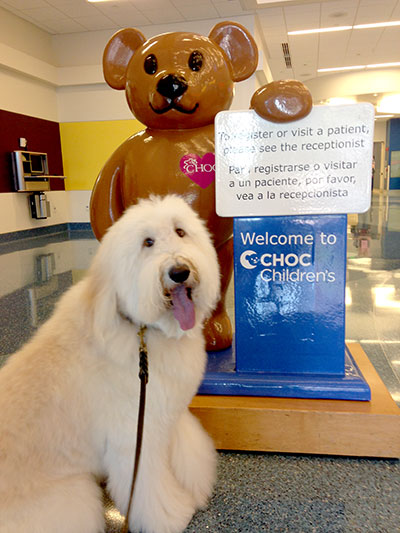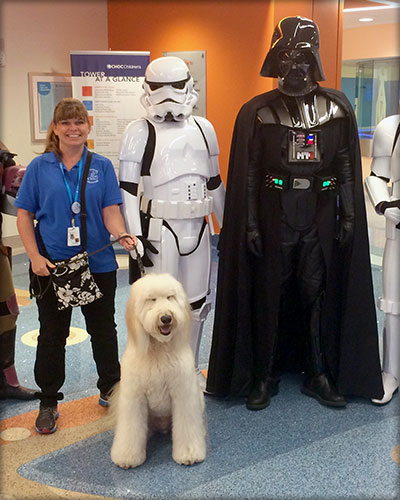 For Justine & her labradoodle Wally, participating in CHOC Children's pet therapy program is a chance to give back. After Justine's daughter Madison suffered a concussion playing soccer, she had regular physical therapy appointments at CHOC. After spending time at CHOC, the two soon realized their family's dog, who excels at cheering people up, would be perfect for the pet therapy program.
After going through extensive training, Wally become a pet therapy dog in 2014, and spends his weekly shift visiting kids and teens in outpatient areas of CHOC. The amount of time he spends with each patient varies, but pet therapy dogs like Wally can often instinctively sense if a patient needs a little bit more time with them.
"Wally was born to be a therapy dog," says Justine. "He is the laziest dog you'll ever meet. He's not interested in playing, he just wants to relax. He doesn't startle anyone and he is very calm, which rubs off on patients and families."
If a young patient is anxious heading into surgery, Wally will spend time with them as they wait to help calm their nerves, and visit with their siblings and parents in the lobby during the surgery.
Physical therapy patients find inspiration in the 85-pound tail-wagger. As part of their therapy, some smaller patients ride tricycles to gain strength. Justine fondly remembers one little patient who grew tired on their bike, but suddenly lit up when they saw Wally at the end of the hallway, and kept riding towards him.
Wally has inspired countless patients who want to get a big, fluffy dog just like him when they go home. Having goals helps in their recovery, and patients often tell Justine that they want to be a pet therapy volunteer when they grow up.
"I just hold the leash," Justine says. "Wally does all the work."