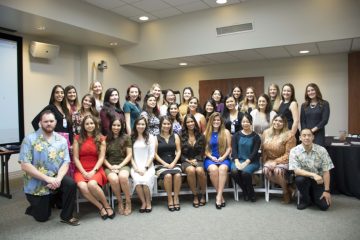 CHOC Children's RN residency program is a 17-week program customized to help the new nursing graduate successfully transition into a professional pediatric nurse. Our RN fellowship program is a 10-week program designed for the experienced nurse who wants to be trained in pediatrics. The two programs run concurrently and we are fortunate to receive approximately 500 applications for each. Here are some tips to help you stand out as a candidate.
Healthcare Work Experience: At CHOC, we look for candidates who have experience working in hospital or healthcare settings in nursing support roles. This experience may be helpful in the transition to the residency program.
Volunteer Work Experience: CHOC also likes to consider candidates who have volunteer experience in a hospital environment or generally anywhere in the community.
Preceptorship: It's preferred candidates have successfully completed preceptorship/internships in their interested areas of specialty.
Work Environment: Given our fast-paced work environment, it's important for candidates to work efficiently under pressure and multi-task very well.
Career Development: Strong candidates are proactive with their own career development and learning opportunities.
License/Certifications: You will need to have a current California RN license at time of hire but it's not required to have the license upon submitting your online application. A Basic Life Support CPR card from an approved American Heart Association training center is also required at time of hire. Additional certification classes such as PALS will be provided during the program, as needed.
Education: RN residents and fellows hired into the program are required to have bachelor's or master's degrees in nursing from an accredited school.
Skills: It's important for a nurse to have strong critical thinking skills, solid communication/listening skills, excellent customer satisfaction skills, and effective organizational/prioritization skills.
Interview: Always be prepared for a panel-style interview and come dressed in professional business attire.
For current information regarding our RN residency/fellowship program, go to: http://www.choc.org/careers/residency-training-programs/rn-residency/.
To review our current job openings and to apply online, please visit us at: www.choc.org/careers.