Seacrest Studios has Brightened the Lives of Babies and Teens, Alike.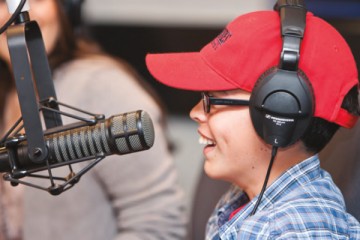 If it were a pop song, Seacrest Studios would be a No.1 smash every week for patients who get to act as disc jockeys, request their favorite tunes, interview celebrities and watch artists perform in the state-of-the-art studio located in the Bill Holmes Tower. Broadcast via closed-circuit TVs to patient rooms, Seacrest Studios, since opening in March 2013, has brightened the lives of babies and teens, alike.
"Giving them an opportunity to forget their troubles and challenges and have some fun in our studio during their hospital stay has been a privilege," says Connie Seacrest, vice president of community affairs and hospital relations for the Ryan Seacrest Foundation, whose studio at CHOC Children's is its only one on the West Coast.
Bryan Mundia, media programs coordinator at CHOC, says studies show that during the 40 hours of weekly programming at Seacrest Studios, requests for pain medication decrease. And that's a hit in anyone's book.