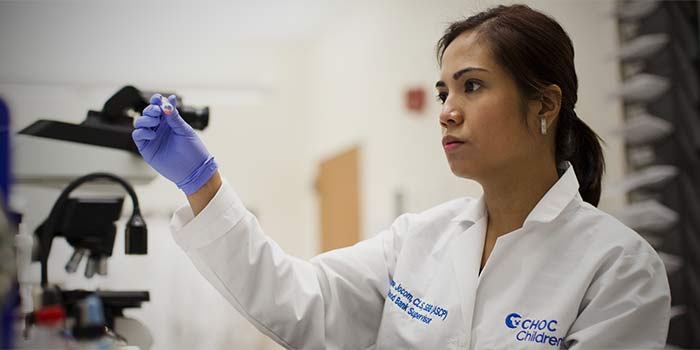 Pediatric Cancer Research and Clinical Trials: How Treating Cancer is Changing
Cancer Research and Clinical Trials
A clinical trial is a research study that aims to determine the most effective treatment for a particular disease.
Clinical Trials are conducted in "phases," with the earliest research of the use of a new treatment being "Phase 1."
Access to Phase 1 trials means patients are able to receive the very latest research-based treatments before they are available in most other hospitals in the country.
Each trial is a result of a very detailed study of factors associated with the most current standard treatment and variables that may lead to an improvement in survival rates or a reduction in side effects or late effects of treatment. (Late effects are side effects of treatment a patient experiences later in life.)
The Hyundai Cancer Institute at CHOC Children's is a member of the Children's Oncology Group (COG) and has received a prestigious Phase 1 clinical trial designation.
There are only 21 facilities in North America with a COG Phase 1 clinical trial designation.
Treating Pediatric Cancer with Precision Medicine
Recent groundbreaking cancer research and clinical trials are exploring the use of precision medicine and genomics  to cure cancer.
Precision medicine refers to the tailoring of medical treatment to the individual genetic characteristics of each patient's disease.
Precision medicine has had its earliest success in cancer research and therapies, especially pediatric cancers.
For more than a decade, the cure rate for pediatric cancer has been at about 80 percent. Experts are hoping to use precision medicine and genomic profiling to target and cure the other 20 percent.
In recent years, tumor profiling has become a valuable tool for oncologists when making treatment decisions for patients with recurrent (relapsed), or difficult‐to‐treat (refractory), rare and aggressive childhood cancers.
Decoding genomic data from a tumor, and combining that information with a clinical strategy to optimize the immune system, we can provide personalized information to aid new treatment options.