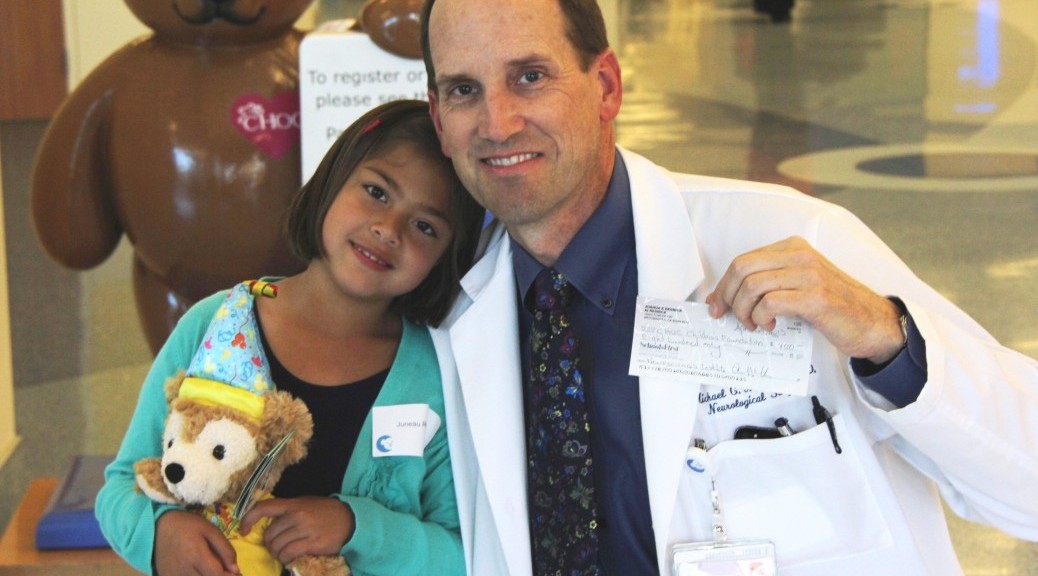 At 8 years of age, Juneau Resnick experienced a life-changing event. A close family friend, Gina, passed away after a devastating battle with brain cancer. Gina had devoted her life to working with infants in a neonatal intensive care unit (NICU). Juneau, who spent the first 40 days of her life in a NICU, developed a special bond with her. Owing to her prematurity, Juneau developed hydrocephalus necessitating numerous brain surgeries. After a series of difficult events, Juneau's parents transferred her care to Dr. Michael Muhonen, pediatric neurosurgeon at The CHOC Neuroscience Institute.
To honor Gina and to thank Dr. Muhonen and the CHOC team who did so much to improve her health, Juneau and her teacher came up with the idea of a fundraiser to coincide with the 100th day of school. In addition to passing out flyers, Juneau spoke in front of the entire school and made a plea for each student to bring in 100 coins. Combined with a baked goods and lemonade sale organized by Juneau, the students' donations totaled almost $1,000.
Juneau remains dedicated to continuing her fundraising efforts on behalf of CHOC. The young philanthropist is grateful for her renewed health and so happy to be under the care of CHOC.
Or Donate Now