Hyundai Hope on Wheels has Raised Millions of Dollars Since 1998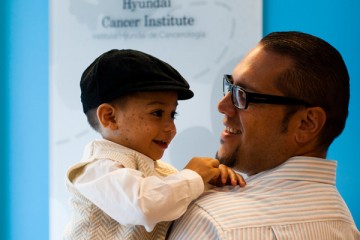 Supporting pediatric cancer care and research is a passion for Hyundai Motor America and its dealers. Its nonprofit organization, Hyundai Hope on Wheels, has raised millions of dollars since 1998 in the fight to end childhood cancer. With headquarters in Fountain Valley, the company's roots in the Orange County community run deep. Hyundai's executives sit on the CHOC Foundation board, and its employees are engaged in a variety of fundraising efforts throughout the year.
So when CHOC cancer specialist Dr. Leonard Sender shared his research vision with the company, Hyundai enthusiastically responded in May 2011 with a $10 million donation—the largest corporate gift in CHOC history. The hospital recognized this gift by naming its cancer center of excellence the Hyundai Cancer Institute at CHOC. The generous donation helps fund groundbreaking pediatric cancer research focused on using the latest advances in genomic medicine to provide more effective, individualized treatment for children living with cancer. As a true community partner, Hyundai is driven to make a difference.