The Gladding Family Story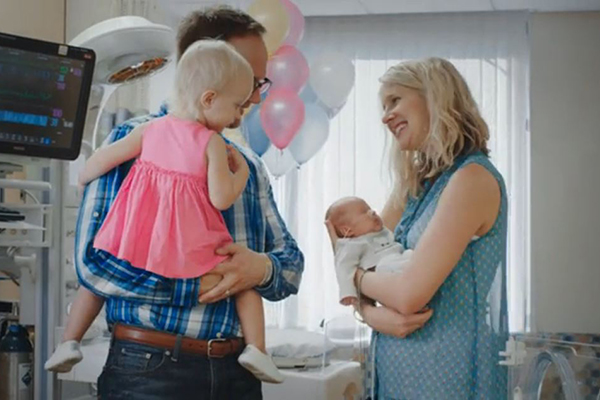 The Gladdings have never been happier to be home. Afterall, it was in the comfort of their home where Katie and her husband Jason expected to deliver their son Nathan just a few months ago. Their two-year-old daughter Klara was also delivered via home birth. Everything was perfectly set to welcome baby Nathan exactly the same way.
Ten weeks prior to her due date, however, Katie started experiencing painful cramps and a fever. She was rushed to St. Joseph Hospital, where she delivered Nathan, who had a high heart rate and was in distress. He was transferred to CHOC's neonatal intensive care unit (NICU) immediately. That marked the beginning of an unexpected journey for the Gladdings.
"It was extremely hard and scary," Katie recalls. "Our hearts were torn apart."
Nathan was having trouble breathing. After his lungs were stabilized, an ultrasound revealed a serious – grade 3 – bleed in his brain. Time was of the essence, as Nathan had hydrocephalus, which could cause damage to the brain. Nathan had three head surgeries while in the NICU. In his final surgery, Dr. William Loudon, CHOC pediatric neurosurgeon, placed a permanent shunt in Nathan's head to drain the cerebral spinal fluid and relieve pressure in his brain.
"The nurses, doctors, therapists, social workers and staff in the NICU are our heroes. Day and night they looked after our baby with such love and care. They saw us through countless highs and lows throughout Nathan's stay and we could not be more grateful! They will forever hold a special place in our heart," Katie says.
After spending more than two heart-wrenching months in the hospital, Nathan got to go home with his family.
"After this experience, one thing that stood out is how interconnected we are. The support, not only from our own family and friends, but the community within CHOC, who made us feel so comfortable and at home, made me realize how much we need each other. Having that support was life-changing," Katie says.
Today, Nathan is doing well— gaining weight, eating and sleeping like most newborns do. Through their strong faith, the Gladdings remain thankful and hopeful for their baby's future.
"How can you say thank you to the people who saved your baby's life?" Katie says. "Through our story, I want others to know that CHOC is a gem."
Nathan will have to go back to CHOC occasionally for follow-up care. For now, the family is happy to be together and feel comfort in knowing that at CHOC they have a home away from home.