Caring for the smallest of patients in a hospita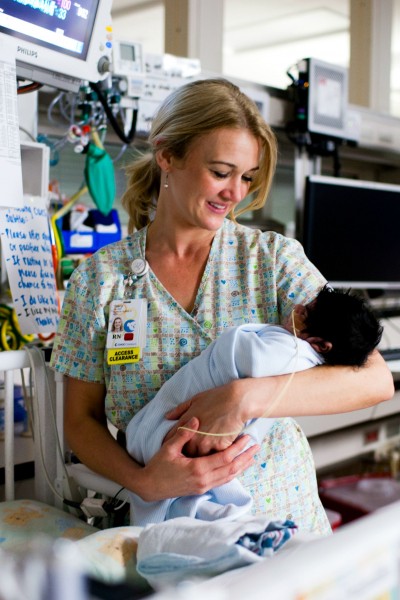 l's neonatal intensive care unit takes specialized training and a unique skillset – just ask Stacy de Santiago, BSN, RNC-NIC, a 14-year veteran in the NICU at CHOC.
In this Q & A, Stacy discusses what it's like to work in the NICU, what distinguishes neonatal nurses, and how aspiring NICU nurses can get started in a competitive and rewarding field.
Q: What made you decide to be a NICU nurse?
A: Twenty-four years ago, my oldest son, Ryan, was born prematurely at 32 weeks gestation. Ryan spent his first three weeks of life in the NICU at Saint Joseph Hospital in Orange. As a first-time mom, I was very intimidated by how tiny Ryan was and also by this new environment. The NICU nurses were not only caring, compassionate and supportive in their care of Ryan, but also of me, his mom. The nurses taught me how to interact with him through touch and talk, and how to care for him while also empowering me as his mom to be his strongest advocate. These nurses inspired me, and it was during this time that I decided I wanted to provide the same care and service to other families.
Q: How long have you worked in the NICU?
A: I began my nursing career as a new graduate nurse in CHOC's NICU 14 ½ years ago. I find my job to be very rewarding and I'm proud to say not only that I work at a children's hospital, but at CHOC.
Q: What are the skills/qualities that distinguish NICU nurses?
A: NICU nurses are very detail oriented. Working in the NICU means working with the smallest patient population. We are very caring and compassionate people who can work closely with families for an extended period of time. NICU nurses bridge the care spectrum from assisting the family with bonding, to empowering them to care for and eventually take their baby home. Another strong quality of the NICU nurse is mindfulness. A NICU nurse keeps in mind that every intervention we make can and will affect the rest of that patient's life. In addition, we have the ability to work autonomously, but also must collaborate and work well within a team. NICU nurses are strong patient and family advocates.
Q: What do you enjoy most about working in the NICU?
A: I love working with our patient population and their families. Our patients and their families are with us for an extended period of time, and during this time, we build relationships as we partner in caring for their baby. It makes me happy to help parents interact with and touch their baby. There is no better feeling than handing a mom her baby for the first time to bond together skin-to-skin. I also enjoy that the entire medical team and all of the different disciplines work together, collaborating as a team to provide the best possible care to our patients. I have a very rewarding job that provides me with the opportunity to make a difference every day.
Q: What do you find the most challenging about working in the NICU?
A: One of the biggest challenges of working in the NICU – especially our Small Baby Unit (SBU), which cares for premature babies with extremely low birth weights – is alarm fatigue. Alarms sound in the unit often because the babies' oxygen saturation levels frequently fluctuate and adjustments must be made. There are also those days when we have exhausted all measures to save a baby, and we must guide families through their loss and the grieving process. These are difficult days for all and the loss tends to stay with us.
Q: What advice do you have for new grads looking to become a NICU nurse?
A: It is very competitive to get a job as a nurse in the NICU. My advice to people interested in working in the NICU is to be proactive in seeking opportunities that will assist them later when they are ready to begin their nursing career. There are several ways to accomplish this. First, start by volunteering in the hospital to become familiar with the environment. Second, if possible, try to get a job as a secretary or unit assistant, preferably within the unit where you are interested in working. Lastly, if your school has a preceptorship program, take advantage of the opportunity and precept in the NICU. The NICU is a very rewarding unit that will also challenge your skill level and critical thinking skills. We are always in need of good, caring nurses and welcome those who want to join our team.