Donation Recognizes Unique Challenges Of Teen Oncology Patients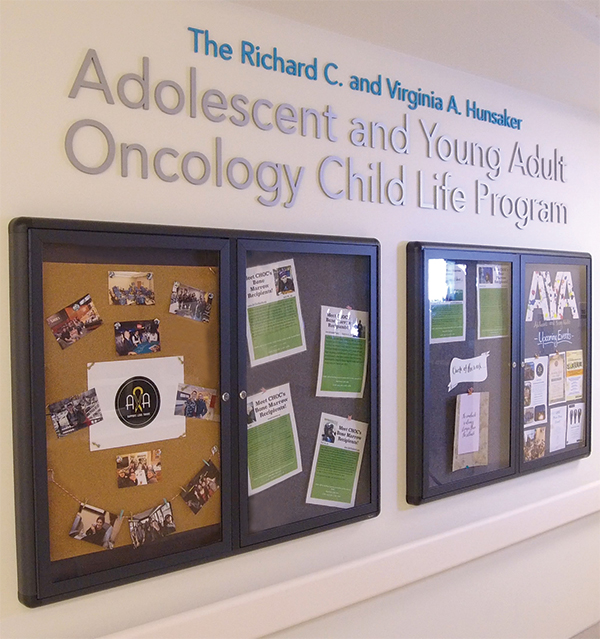 Our junior high, high school and college memories shape who we become. From football games and dances, to dating and learning to drive, to concerts and college applications, the adolescent and the teen years are typically filled with a combination of promise and and discovery.
Yet a cancer diagnosis can challenge adolescents and young adults in ways they cannot imagine, inter- rupting activities and memories that should be a source of joy. For these oncology patients, the risk for depression is high as they deal with the loss of their normal routines and friendships while often undergoing rigorous treatment.
In addition, once they complete treatment, they must learn to navigate a new reality as cancer survivors.
Richard "Rich" and Virginia "Ginnie" Hunsaker are acutely aware of the importance of the teen years. With four children, twelve grandchildren, and two great-grandchildren, they have a firsthand perspective of how an active, social, "normal" adolescence can be a vital foundation for adulthood.
"These young people who must go through cancer treatment  during their teen years have many challenges  on so many levels," explains Ginnie. "And newer treatment alternatives mean that more and more patients will become survivors, which results in more challenges."
Rich and Ginnie believe supporting a program that focuses on offering a supportive community with positive activities for these adolescents and young adults who are going through difficult circumstances will ultimately help lessen the many challenges they face.
The Hunsakers were moved to make a $3 million gift to the adolescent and young adult (AYA) oncology child life program at CHOC Children's. In honor of their generosity, the program is now named the Richard C. and Virginia A. Hunsaker Adolescent and Young Adult Oncology Child Life Program.
The program is one of the few of its kind in the country specially geared toward teens and young adults with cancer (please see accompanying story). The CHOC Children's AYA child life program features weekly social activities, from movie nights to art classes; Rock the Halls, designed to inspire patients to stay active by walking laps around the unit; peer support groups, college counseling and application assistance; CHOC Children's Oncology Ball presented by The J. Willard and Alice S. Marriott Foundation; and weekend retreats and conferences.
Rich, whose career focused on commercial real estate, and Ginnie have also supported CHOC Children's mental health initiative and general oncology child life program.
"We hope our gift gives everyone a chance to be happy, to have something they can look forward to, both during and following treatment," Ginnie says. "These young men and women should not have to miss out on all of the milestones that are unique to their ages and important to their futures."