Dining Room Donation Embodies Marriott's History, Core Values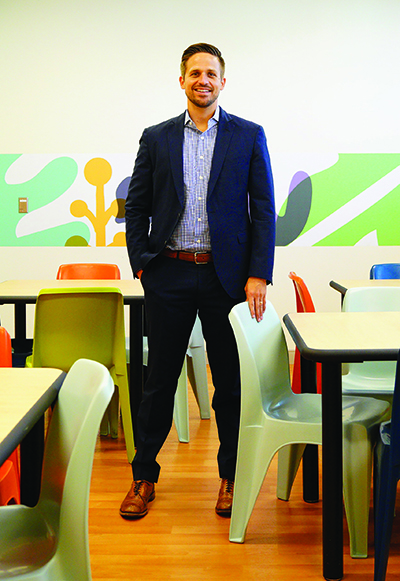 Chris Harrison has a very special place in his heart for pediatric healthcare. It could stem from the fact he was born prematurely and needed serious medical attention to thrive.
Or the fact his great grandparents, who founded the Marriott Corporation, were strong advocates for protecting and giving opportunities to the youth of the world.
In September 2017, Chris, who serves as the general manager of the newly opened 271-room Marriott Irvine Spectrum Hotel, and is a husband and the father of three young children, put his convictions into action— making time in his extremely hectic schedule to join the CHOC Foundation Board so he, too, could make a difference.
"During a Board meeting, one of the members mentioned the need to finish out the capital campaign for the CHOC Inpatient Mental Health Center, and my ears perked up," Chris recalls. "I immediately asked, 'How can I help' because the cause is very near and dear to my heart."
He notes that attracting large donors for mental health facilities is daunting because the condition is still stigmatized and remains underfunded compared to other pediatric diseases.
Chris, who calls himself a "hotel kid" growing up at Marriott properties across the globe, explains that his family has been strong advocates for better mental health care for decades. "Both sides of my family have experienced struggles with mental illness," Chris says. "It is a condition that is not talked about enough."
Learning of CHOC Children's efforts to bring inpatient mental health services to Orange County "was an emotional, legacy moment for me," Chris notes. "I've seen the toll depression and bipolar disease takes, and the lack of treatment options and facilities. I knew there absolutely had to be a better way.
"CHOC Children's presents a solution that is innovative, unique on the West Coast, and brings a holistic approach to treating pediatric mental illness," he says.
Marriott's philanthropic arm, the J. Willard and Alice S. Marriott Foundation, is "dedicated to furthering education, healthcare and the perpetuation of young people." Says Chris, "The Foundation is named after my great grandparents who founded the company, and its mission is closely aligned with CHOC Children's mission. It was a natural for the Foundation to invest in the inpatient mental health center."
Chris notes that the Marriott Corporation actually started off as a restaurant chain. In 1927, his great grandparents opened up a root beer stand in Washington, D.C. The couple later expanded into a chain of Hot Shoppes restaurants.
"So naturally, funding the CHOC Inpatient Mental Health Center's dining room truly honors our family history and heritage while enhancing the lives of young people struggling with mental illness (see previous story)," Chris says. "The Foundation funded the Marriott Family Dining Room, donating $500,000 to provide a place where patients can break bread, share moments and heal."
Chris adds, "To be able to participate in this effort is a huge blessing. We are proud to be a part of it."

CHOC's mental health efforts resonated with Chris Harrison and the
Marriott Foundation's commitment to empower positive change among young people.