Determination, Grit And Vision Place CHOC Children's On Forefront Of Clinical Research For Batten Disease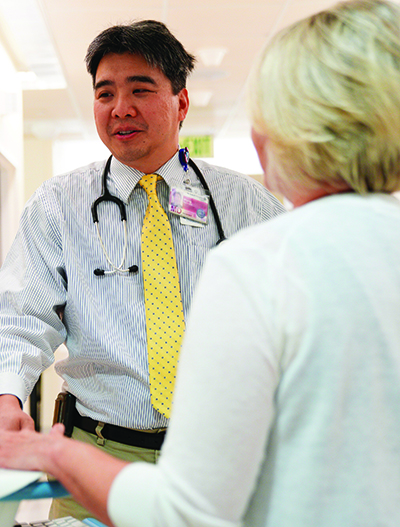 One of a physician's most difficult responsibilities is counseling a family whose child has been diagnosed with a rare condition where there are no treatment alternatives available.
Until recently, one such rare condition was CLN2 disease, also known as late infantile Batten disease— a condition that typically begins with language delays and seizures before age 3, and rapidly progresses to dementia, blindness, loss of the ability to walk and talk, and death in childhood.
Raymond Wang, MD, Director of the Foundation of Caring Lysosomal Storage Disorder Program at CHOC Children's, found himself in this devastating situation with Bekah and Daniel Bowman after a sophisticated genetic test revealed their son, Titus, had Batten disease (please see accompanying story).
"I immediately got on the internet to search for any clinical trial to treat CLN2," Dr. Wang recalls. "I found one for an experimental drug called Brineura, which replaces an essential enzyme not produced in this disease. However, the clinical trial was full, and so we were essentially locked out."
And thus began a three-year effort to bring the drug to CHOC Children's. Dr. Wang took it into his own hands to complete and submit the complex paperwork, and worked closely with his team to make arrange- ments to treat these children.
"You have to have an agreement between the company and the hospital, you need a protocol and the hospital has to have its IRB (Institutional Review Board) approve the study," Dr. Wang notes. "It took a really long time to get the approval, but we got it."
While the effort was too late for Titus, it came in time for his brother, Ely, who was able to receive treatment in Columbus, Ohio before returning to CHOC Children's March 25, 2017, once the clinical trial was approved here.
While Brineura, which received FDA approval April 27, 2017, does not cure the disease, it does slow down its progress. At CHOC Children's, Dr. Wang works closely with neurosurgeon Joffre Olaya, MD, and the nurses of the 5th floor Neuroscience Institute to administer the medicine. Dr. Olaya implants a reservoir under the patient's scalp, which allows the medicine to be infused directly into the brain.
The infusion lasts four hours, followed by an hour of observation. Melissa L. Rodriguez, RN, BSN, CPN, is one of the first nurses trained to deliver this medication at CHOC Children's. As of June, nine patients were receiving Brineura at CHOC Children's.
"It is amazing to be part of a new medicine that can help slow the progression of Batten disease," Melissa says. "The children and their families are with us for about eight hours total every other Friday, so they get to know us and are very comfortable. And we know their routines and what they need."
Dr. Wang notes that CHOC Children's is now the largest center in the United States, and the second largest center in the world treating Batten disease with Brineura. "Our goal is to provide hope, whether in the form of a clinical trial or treatment, or if there is no treatment then lab research to develop a treatment," Dr. Wang says. "We fought so hard to bring this treatment to families, and it is rewarding to see how far we have come."