Even though we don't know whether Katha is receiving the drug or a placebo, the fact that we are enrolled in such an important, innovative clinical trial gives us tremendous hope. — Terese McGregor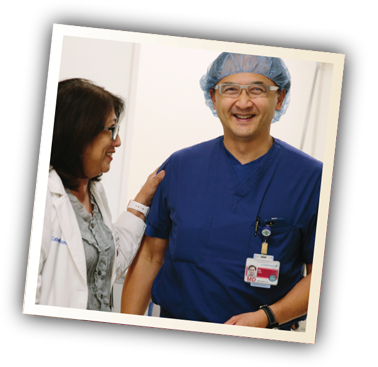 In 2012, after years of uncertainty, Canadian doctors finally diagnosed Katha with NP-C. "We were able to get a prescription for the only known drug for NP-C, which is prescribed off-label," says Terese McGregor, Katha's mother. "It's incredibly expensive but Katha went from stumbling around to being able to run, dance and sing. It made a world of difference, and she is still on it."
However, the drug does not halt the disease, and McGregor kept searching for hope as her daughter's condition continues to decline. While researching the disease, she found a new medication being studied and applied to have Katha participate in a clinical trial. At the time, only two institutions in the United States were designated as clinical trial sites: one in Chicago, and CHOC. She chose CHOC for its reputation for clinical and research excellence, and its desirable Orange County location.
Since March 2016, Katha and her mother have traveled from Canada to CHOC every other week to participate in the yearlong clinical trial. While the travel is challenging, McGregor says it is definitely worthwhile. "The staff is awesome and we are so grateful for the opportunity to be a part of the trial," she says. "CHOC is such a blessing." Raymond Wang, MD, director of the Foundation of Caring Lysosomal Storage Disorder Program at CHOC Children's, credits CHOC's dedication to research including the development of a rigorous treatment protocol submitted to the U.S. Food and Drug Administration- as the reason CHOC is designated as one of the few sites in the country to offer the trial.
Dr. Wang explains that Katha's trial involves cyclodextrin, which in preclinical studies has been shown to significantly reduce cholesterol accumulation in almost every organ, delaying the progression of neurodegeneration and significantly prolonging the lifespan by allowing trapped cholesterol to be released.
"Our clinical trial patients become part of our family, and when someone is in your family, you will do anything in your power to help them. Offering them access to these therapies when there are no other treatment alternatives is the focus of our work," Dr. Wang says. Brent Dethlefs, executive director of the CHOC Children's Research Institute, says providing patients access to clinical trials is of vital importance, especially for those who may be failing conventional therapy or who have diseases for which no conventional therapy has been established. "Our aspirations challenge us to be forward looking—to be champions of research and discovery efforts that transform the future of pediatric health care, not only for the patients and families who walk through our doors but for children everywhere," Dethlefs says.