CHOC1 Helicopter Takes Flight, Elevating Patient Transport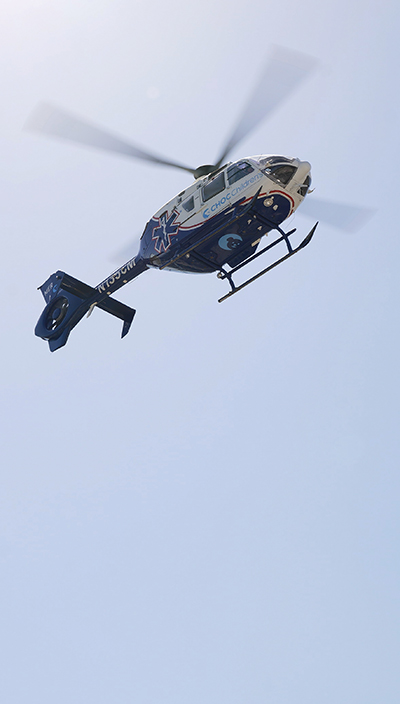 On April 1, 2018, the "CHOC1" helicopter landed for the first time on the South Tower roof, marking the launch of a new era for Emergency Transport Services at CHOC Children's.
"Our helicopter is a game changer," says Tari J. Dedick, BS, RCP, NPS, manager of Emergency Transport Services. "On a typical afternoon, when minutes really matter, we can fly down to CHOC Children's at Mission Hospital in seven minutes as opposed to driving for one hour in bumper-to-bumper traffic on the crowded freeways."
CHOC1 flies all over the Southland, from South Orange County to the Inland Empire— even as far north as Bakersfield, transporting critically ill patients back to CHOC.
According to service partner, Mercy Air, CHOC1 is the only helicopter in Southern California based out of a hospital, with four pilots and mechanics housed on site at CHOC Children's, giving the transport team the ability to jump into action immediately.
The helicopter is specially configured with high-tech equipment including neonatal isolettes and smart IV pumps that are loaded through the back of the aircraft and secured into a confined space.
One device in the helicopter is designed to cool critically ill newborn infants. "To help reduce chances of neurological impairment in these sick newborn babies, cooling needs to be initiated within six hours of birth, or even earlier for better outcomes," Tari says. "If we pick up a critically ill baby in the Inland Empire, we can begin cooling immediately at the bedside and continue the therapy in the helicopter on the way back to CHOC, saving precious time.
"Safety is our number one priority," Tari adds. Mercy Air maintains its Commission on Accreditation of Medical Transport Systems (CAMTS) accreditation, which has stringent requirements about staff training, medical equipment and even what the CHOC Children's transport team wears, including flight suits and helmets.
Weight and balance restrictions are closely tracked by the pilot. Tari admits it is often a "tight squeeze" in the helicopter, with every person and each device weighed prior to flight to determine precise weight and balance.
In its first three months alone, "CHOC1" made more than 60 flights— dramatically impacting the lives of critically ill children throughout Southern California.
Looking to the future, we anticipate that eventually, we will be able to transport trauma patients from all over the Southland so they can be treated at our Level II trauma center, the only dedicated children's trauma center in Orange County," Tari says. "Without a doubt, CHOC1 is widening our outreach while bringing the Southern California community closer."

The addition of a helicopter increases capacity for CHOC's transport team, which is already one of the busiest in the nation.
Remembering Dr. Nick Anas, June 14, 1950 - April 3, 2018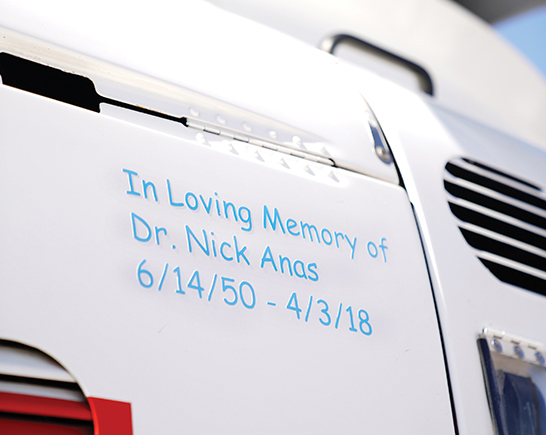 One of the Emergency Transport Services' most ardent supporters was Nick Anas, MD, senior vice president and physician-in-chief at CHOC Children's. Dr. Anas was a nationally recognized expert board certified in both critical care and pediatric pulmonary medicine.
"Most members of our CHOC transport team worked side-by-side with Dr. Anas over the past several years, and his loss has been felt deeply," Tari says. "He knew the helicopter was coming to CHOC and was excited about the potential opportunities it would bring to the organization."
A memorial inscription bearing his name has been placed on the helicopter. "Every time CHOC1 flies, we will be honoring Dr. Anas," Tari says. "He leaves an inspiring legacy."