CHOC Researchers Unlock a Decade-Long Mystery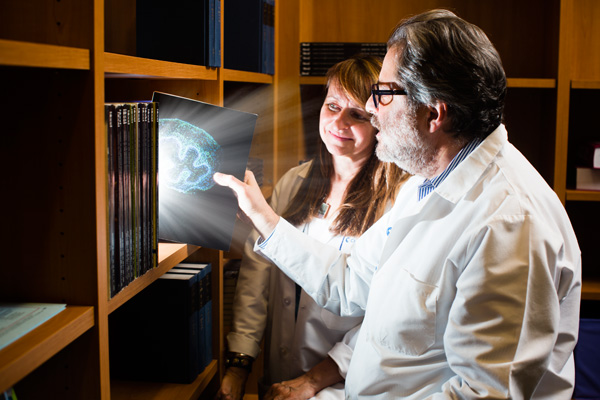 Jose Abdenur, MD, first crossed paths with Miriama Brown and her husband, Bobby, in 2004, when two of their sons, Toalii, then 3-1/2, and Bobby, then 2, had been transferred to CHOC Children's pediatric intensive care unit for vomiting and dehydration. Both boys were unconscious, and physicians were doing everything possible to save them.
A Family's Journey
For the Brown family, the hospitalization represented yet another challenge in the perilous journey of their sons' young lives. After an apparently healthy first year of life, Toalii started to exhibit signs of fatigue after crawling and playing. He was originally misdiagnosed with seizures and put on medication. When that treatment did not help, he was taken off the medication and later diagnosed with severe muscle spasticity.
In the meantime, the family welcomed another child. Born 15 months after his big brother, "lil Bobby" also experienced a happy, normal infancy until he suddenly started vomiting like his big brother and was transferred to CHOC. "The boys were seen by every specialist at CHOC," she recalls. Dr. Abdenur was one of them.
"We discovered the boys were experiencing a severe metabolic crisis," said Dr. Abdenur, who serves as division chief of metabolic disorders at CHOC and is the director of CHOC's metabolic laboratory – one of only a few such labs in the United States. Under Dr. Abdenur's care, the boys recovered, though he could not identify the exact cause of their rare condition.
Throughout the next decade, the family made numerous trips to CHOC, traveling all the way from Santa Maria and then Victorville to receive care. The boys experienced several health crises due to their metabolic condition, which caused severe muscle spasticity, acidosis and feeding difficulties. Bobby eventually needed a feeding tube and lost the ability to speak, but his joyful spirit could not be contained. "His massive smile and two big dimples earned him the nickname 'Double Ds' or 'DJ Dimples' around CHOC," Miriama said.
"While there still isn't a cure for my boys, this information is opening doors for a better life for children with these rare metabolic disorders."
In 2012, Bobby got severely ill and was re-admitted to CHOC. Despite being stabilized and spending a week back at home to be close to his loved ones, he returned to CHOC when he had trouble breathing. Four days later, Bobby passed at the age of 9. The tremendous impact he had on the CHOC staff was reflected in the huge turnout for his memorial service, many of whom Miriama had never met. "Everyone from CHOC hugged us and thanked us for sharing him. It meant the world to us to see this support," she said.
Detective Work
While Miriama and Bobby Sr. coped on the frontlines of their children's illness, Dr. Abdenur and his team resolved to unlock the genetic secrets of the disease. If the disorder could be identified, they could begin work toward a cure.
"My heart goes out to Dr. Abdenur. You could see how his heartstrings were pulled trying to figure out what was wrong with the boys," Miriama said.
Over time, Dr. Abdenur and his team conducted extensive testing on the boys' blood, urine, spinal fluid and skin. "In 2012, a new technology called whole exome sequencing (WES) became available, which allowed us to look at thousands of genes at the same time," he said. "Based on the clinical and biochemistry information, I could determine which pathway was not working, but even with the WES data from commercial laboratories, we could not find the problem."
Enter research scientist Mariella Simon from the University of California, Irvine, who joined CHOC in 2014, bringing a background in mitochondrial genetics. Mariella reprocessed the massive amounts of data and, after "hours upon hours of looking for clues," identified the candidate gene causing the rare metabolic problem.
They finally had an answer.
"The beauty of working at CHOC Children's is that we collaborate with clinicians and families to solve problems, rather than just working alone in the laboratory environment," Mariella said. "This connection is vital as we sift through the data and hundreds of variants to pinpoint the problem. It is like being a detective.
Now the metabolic team at CHOC faces a new challenge: to develop a treatment that can help Toalii, Dino and other children with this rare disease.
For the Brown family, the knowledge brings peace of mind. "Just the identification of the specific gene that is miscoded in the boys has given me great insight into their illness," Miriama said. "And while there still isn't a cure for my boys, this information is opening doors for a better life for children with these rare metabolic disorders."