CHOC Children's At Mission Celebrates 25th Anniversary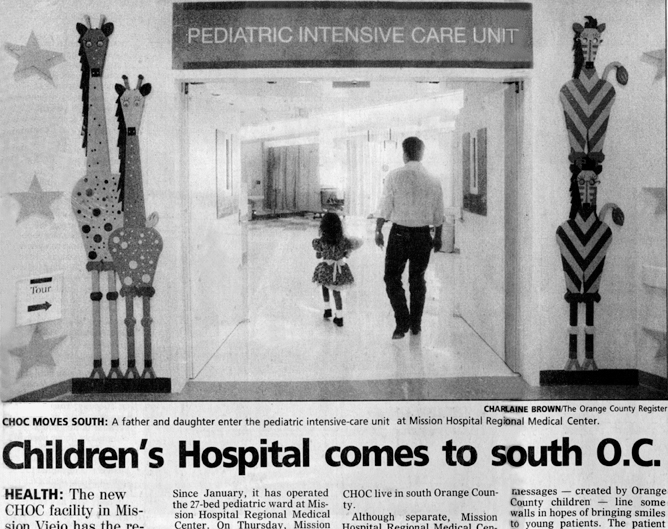 In 1993,  CHOC Children's  made the commitment to address a healthcare gap in south Orange County by opening an innovative, state-of-the art, separately licensed, 48-bed pediatric facility on the 5th floor  of Mission Hospital.
Twenty-five years later, the program has expanded dramatically, earning a nationwide reputation for its unique model of care. This achievement can be attributed to a dedicated staff and physicians, grateful patients and families, and tremendous community support.
The numbers speak for themselves. Since 1993, more than 50,000 pediatric patients have been treated, with the physician medical staff increasing from 49 to 476. The facility now has 22 neonatal intensive care beds, 8 pediatric intensive care beds and 24 medical/surgical beds, which include 4 beds dedicated to epilepsy monitoring.
A sleep center, accredited by the American Academy of Sleep Medicine, offers three private rooms to conduct sleep studies to diagnose medical issues related to sleep. Through a partnership with Ronald McDonald House Charities, CHOC Mission features the Ronald McDonald Family Room and 2 Sleep Rooms to provide comfort and care to parents of critically ill children.
Families in south Orange County have access to pediatric expertise in the Emergency Department as well as a Level II Pediatric Trauma Center, with 3,600 trauma patients receiving treatment since 1994. Without a doubt, it has been a unique and highly valued partnership with Mission Hospital.
The 25-year success of CHOC Children's at Mission can be linked to two key factors: highly specialized staff and physicians, and a program that is flexible enough to rapidly implement new programs such as epilepsy monitoring, telemedicine and the sleep center.
The hospital has a separate medical staff  from  CHOC Children's  Orange, and several doctors have been at the facility from the beginning. The medical staff has continually scored in the 99th percentile in terms  of physician satisfaction. In addition, many staff members, including nurses and child life specialists, are long-time employees who truly feel like family.
More than 200 celebrants came together July 26 at the Arroyo Trabuco  Golf Club in Mission Viejo to mark the 25th anniversary milestone. Paul S. Lubinsky, MD, a pediatric critical care specialist who opened the CHOC Mission pediatric intensive care unit, and was the first CHOC at Mission's chief of staff,  shared  his memories in the featured speech.

Since opening its doors on July 15, 1993, CHOC Mission has become a valued health care
resource for children and families in south Orange county and beyond.