Celebrating Ely – A Homecoming Story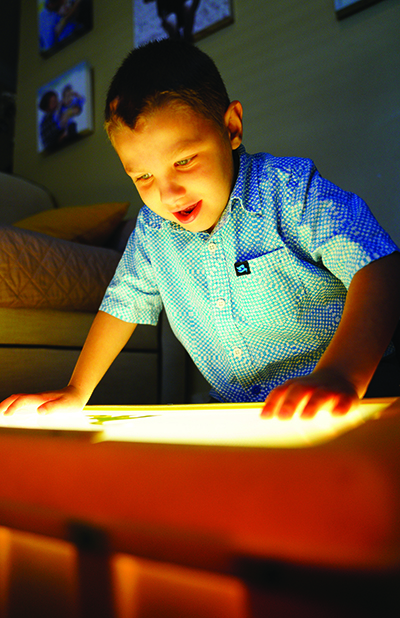 Homecoming.
It is the word that best describes March 24, 2017—the day Bekah and Danny Bowman brought their son Ely, then 3, to CHOC Children's to receive a new, novel drug to treat Batten disease (please see previous story).
Homecoming because during the previous six months, the family had to fly every 10 days to Columbus, Ohio, for Ely's infusion of Brineura.
Homecoming because Ely's older brother, Titus, who had succumbed to the same rare genetic disease at age 6, had been a patient at CHOC.
Homecoming because after a 2-1/2 year effort, CHOC Children's became a clinical site for Brineura. Ely could finally be treated at "home."
"Walking into the CHOC neuro floor for that first infusion with Ely, my heart was heavy with memories," recalls Bekah Bowman. "The last time we were there, Titus was very sick and we couldn't do a lot for him. Brineura was not available.
"Yet when we rounded the corner, the whole team on the neuro floor was there, in a semi circle, waiting to greet us with the biggest smiles and cheers," Bekah says. "Our hearts went from weighted grief to gratitude. It was incredible and redemptive."
Since that time, Ely has undergone 46 total infusions (as of June 30, 2018), which involves sitting still for four hours every other Friday as the medicine is infused directly into his brain.
Batten disease is a recessive disorder, which means that both Bekah and Danny carry the defective gene. Titus and Ely each had a 25 percent chance of inheriting both copies.
The condition typically begins with language delays and seizures before age 3, and rapidly progresses to blindness, loss of the ability to walk and talk, and death in childhood. "The boys were diagnosed with Batten disease 2-1/2 months apart," says Bekah. "We were a family who needed hope."
Bekah notes that as Ely celebrated his 5th birthday July 6 – complete with a new goldendoodle puppy named BoBo— he is in "a much better place" than Titus was at this same age. He can walk independently, eat by mouth completely, can speak some favorite words including "whale" and his seizures are under control. "At this point Titus was in a wheelchair, not talking, could not eat by mouth and had over 100 seizures a day."
Ely's biggest hurdle is progressive vision loss. "At this point, there are aspects of the disease that are not treatable," says Bekah.
With support from their church, the boys' school, compassionate friends and strangers, the Bowmans manage to find joy amidst the challenges. In addition, CHOC Children's has become family—a community of healthcare professionals who welcome Ely by name and make his stay as comfortable as possible.
"We are so thankful," says Bekah, "and even though we don't know how our story will end, we feel part of the CHOC team as we pave the way for future children with Batten disease."
The innovative treatment close to home has given the Bowmans opportunities for normalcy, fun and a furry addition to the family.