Bridge of Hope Recognizes Professional Advisors Who Advocate For CHOC Children's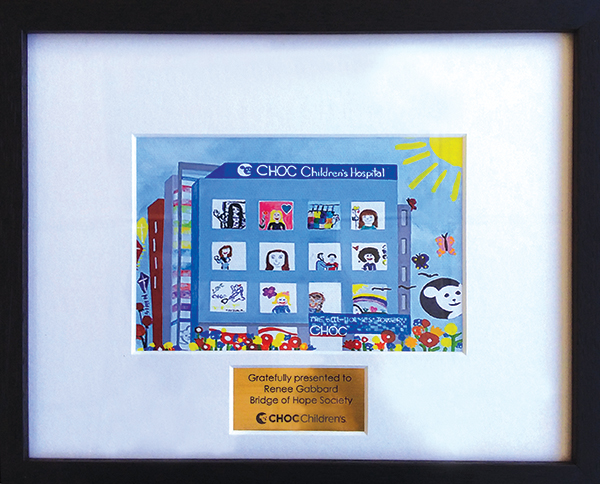 Long before Doug Corbin launched his career as a philanthropic leader, he worked in the life insurance business. And he discovered something that continues to inform him to this day as Vice President and Chief Development Officer of CHOC Children's Foundation.
"I discovered that often times when I developed a relationship with clients, it would extend beyond the service I was providing," Doug stated. "I would find myself helping them explore their passions and values and how they could express their values through philanthropy. It was in those moments that I discovered how valuable professional advisors can be in the philanthropic process."
Doug realized that by developing relationships with professional advisors such as estate planning attorneys, CPAs and wealth managers, he could expand his network and increase the number of major and planned gifts to his organization. "Professional advisors are connectors. And when they are connected to an organization's mission, they have the ability to make a tremendous impact," Corbin says.
"It's important for us to engage professional advisors the same way we engage donors— with respect and appreciation." Corbin continues, "I was struggling to come up with a more effective way to connect with professional advisors and then it hit me… we honor and recognize donors but we don't do the same for professional advisors."
To recognize the important work of these advisors, Doug created the CHOC Bridge of Hope Society in 2016. There are no meetings and there are no dues. The only way to become a member is to be an advisor in the field of law, tax, financial services, wealth management and/or insurance and be instrumental in facilitating one or more planned gifts to CHOC Children's.
In its first year, the CHOC Bridge of Hope Society identified 30 advisors in the community who met these criteria. In 2017, this number rose to 35. "After its first full year, our Bridge of Hope members were responsible for helping to identify and facilitate more than $16 million in bequests to CHOC," Doug says. "And we expect this number to grow as we continue to reach out to the professional advisory community."
Members receive a beautifully framed plaque engraved with their name featuring artwork created by a CHOC Children's patient. They are considered VIPs and enjoy a variety of benefits, including invitations to CHOC Children's signature events such as The Taste of Downtown Disney, the CHOC Children's Golf Classic and the CHOC Children's Gala.
They are also recognized in the CHOC Children's Foundation Planned Giving website.
"Advisors are a key component in the planned giving process. And because a planned gift is often the largest gift that anyone can make in their lifetime, their advocacy is very important to us," Doug notes. "Making a planned gift like a simple bequest in one's will or living trust is a powerful way to leave a lasting, impactful legacy (see accompanying article).
"Having worked closely with our Bridge of Hope members, I know how valuable they are, and will continue  to be, to our mission," Doug adds. "It's important for our community to know that as well."