I know people don't like to face the fact that they are mortal. But they are. And I see planned giving as making a gift in the face of death in the hope of giving life. – Dr. Michael Muhonen
Jay went on to play football for and graduate from the University of Southern California. He became one of the early pioneers in high technology and a successful venture capitalist, and he lived an active and joyous life with his wife, Lauren, three daughters and six grandchildren.
Over the years, Jay served on more than 40 corporate boards, but CHOC Children's was the one that touched his heart. He served on the CHOC Children's Foundation Board of Directors for seven years, including two as chairman, as well as the CHOC Children's Orange/CHOC Children's at Mission Hospital Board of Directors from 2007 to 2012.
"The work of the hospital affected him deeply," Lauren recalls. "He would visit patients after board meetings and was serious about supporting CHOC and their efforts to help those children and their families."
Jay approached life with strength, determination and optimism. Even when diagnosed with brain cancer, "He referred to it as a 'speed bump.' It might slow him down, but it wouldn't stop him," Lauren says. Although Jay lost his battle at age 75, his care and concern for the children of CHOC lives on through his planned gift to the hospital.
"Jay felt it was an honor and a privilege to serve on the CHOC boards," Lauren remembers. "And he understood the vital role the hospital plays in our community, as well as how fortunate we are to have it."
With the planned gift, Jay's legacy will live on—affecting the lives of countless children.
Planned giving is an opportunity for individuals and families "to leave an enduring legacy long after they have passed on," says Doug Corbin, director of planned giving at CHOC. "We have an important mission here at CHOC and for many, planned giving is the ideal way to express their philanthropy." Examples of planned gifts include bequests, charitable trusts, charitable gift annuities, gifts of stocks, bonds and real estate, retirement assets and life insurance.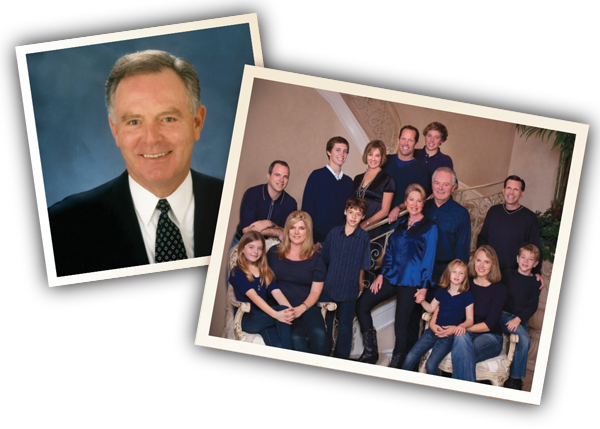 Jay Kear and family
Husband-and-wife Michael Muhonen, MD, CHOC neurosurgeon, and Linda Muhonen, MD, CHOC cardiologist, are determined to leave a legacy that allows CHOC to continue delivering excellent care well into the future. In that spirit, they started The Muhonen Family Endowment fund supporting the CHOC Children's Neuroscience Institute.
Along with donating monthly to grow their endowment fund, the Muhonens also arranged a planned gift through a $1 million life insurance policy that will support the Neuroscience Institute after their passing.
"This is a simplified way of giving back to an institution that has supported my endeavors all of these years," Dr. Michael Muhonen says. "My vision is to set a precedent to have every department at CHOC establish an endowment and create a strong legacy for future generations of physicians and the patients they treat."