"Even if the baby only weighs a pound, it is important for parents to be a part of their baby's care at the earliest onset. Whether it is changing a diaper, breastfeeding or skin-to-skin contact, parents are part of the care team; providing a private room will facilitate that experience." – Patty Hanighen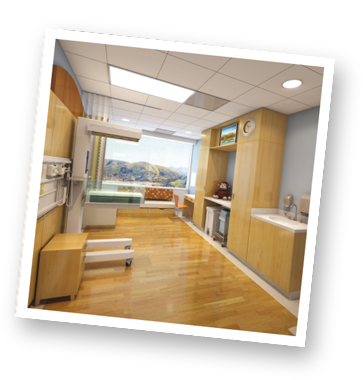 A New Model of Newborn Care
"Our new private-bed, family-centered NICU is the future standard of care for treating critically ill premature babies," says Vijay Dhar, MD, medical director of the CHOC NICU, noting the rooms are scheduled to open in summer 2017. "It will mark a new era in caring for premature infants by creating an environment that is more conducive to privacy and bonding, which in turn produces better developmental outcomes."
Currently, eight to 10 isolettes are situated close together in one large room, squeezed in between high-tech devices, explains Patty Hanighen, manager and clinical nurse specialist coordinator of CHOC's regional perinatal outreach program. "In contrast, each of the private rooms will include an isolette, a chair that allows the mother to recline while nursing, a sofa that converts into a bed, locked cabinet, television with a DVR for baby education, and privacy curtains," Hanighen says.
The single-room concept was designed by a team of physicians, nursing administrators and parents to enhance the patient and family experience. The concept supports research published in the journal Pediatrics that found infants cared for in singlefamily rooms weighed more at discharge, gained weight more rapidly, required fewer medical procedures, developed fewer hospital-acquired infections and experienced less stress, lethargy and pain.
Expertise Beyond Orange County
CHOC has also focused on expanding its neonatal network by partnering with other health care systems across the Southland. Last year, CHOC's neonatologists staffed nine other NICUs, covering 50,000 deliveries throughout four counties. The sickest, most critical babies are transported to CHOC.
"We recently purchased new equipment to keep these tiny babies, many weighing under 1,000 grams and the size of a soda can, warm using heat and humidity," says Tari Dedick, supervisor of the 24-hour CHOC Transport Team. "And we have equipped two of our six ambulances with special suspension to provide an extra-smooth ride on the long-distance runs. We can also cool babies during transport as well, which protects the brain from long-term problems due to lack of oxygen from a difficult birth."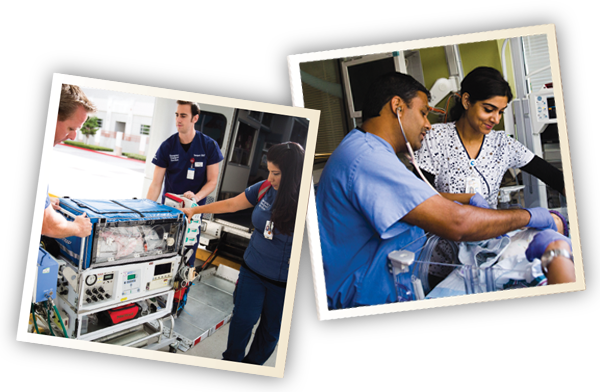 This past year, the team transported 4,100 pediatric and neonatal patients, including some by helicopter and fixed wing jet—allowing the team to bring babies to CHOC from anywhere in the country. "We are going farther out to pick up critically ill premature babies," Dedick says, "and we can start therapies literally on the road and in the sky to help improve outcomes."