In 2001, we didn't focus on survivorship. We just focused on surviving. Now, CHOC Children's is encouraging patients who are going through treatment to think about their future. — Amy Jennings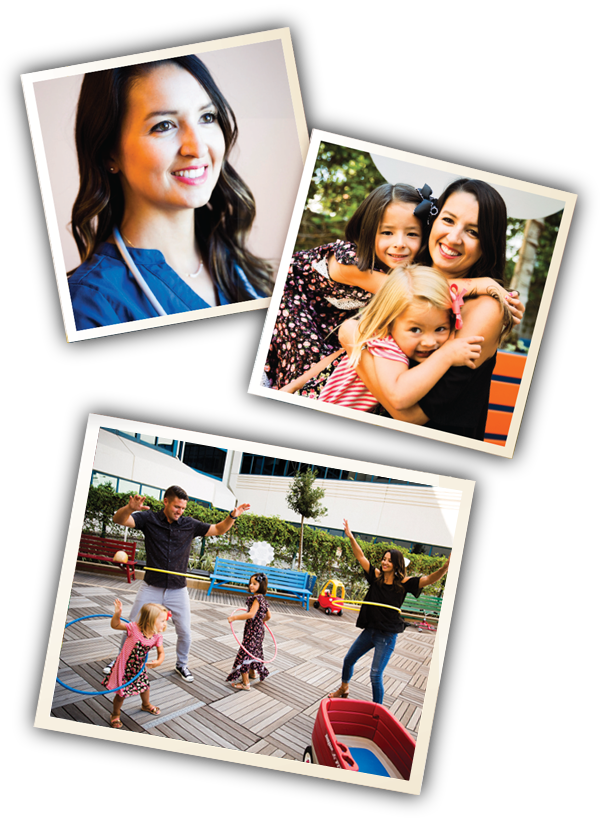 Jennings was diagnosed in 2001 with Burkitt lymphoma, a form of non-Hodgkin's lymphoma that is considered one of the fastest-growing human tumors. " A few years prior to my diagnosis, there was no treatment for this cancer, and no chance of survival," she says. "However, I underwent groundbreaking treatment at CHOC Children's, and it saved my life."
Jennings endured six months of aggressive treatment, including intrathecal delivery of chemotherapy directly into her spinal canal. She was in constant pain, continually vomited, lost weight and at one point wanted to give up. "My mom and our strong faith in God pulled me through. She told me that God allowed me to be here for a reason, and that I needed to trust in him and see how I could be a blessing to others," she recalls. "Her words turned me around, gave me the will to keep going and I made it through."
Jennings now devotes her life to her husband, two little girls and her nursing career. She personifies the growing number of children and young adults who survive cancer and go on to lead full, meaningful lives.
"Our goal is to not only achieve a cure for our pediatric patients but to prevent relapse as well as future problems related to the disease and the treatment," says Lilibeth Torno, MD, clinical  director of the CHOC After Cancer Treatment Survivorship (ACTS) Program. "Through education and referrals to appropriate subspecialists, such as fertility doctors and cardiologists, we can empower our pediatric and adolescent patients to think long term."
Dr. Torno, who says CHOC has become one of the thought leaders on survivorship, served as the senior editor of the innovative book "The Handbook of Long Term Care of the Childhood Cancer Survivor," published in 2015. Survivorship begins during treatment. Kara Noskoff, child life specialist with CHOC's Adolescent and Young Adult (AYA) Cancer Program, notes that staff take the time to talk to teenaged patients about their college and career goals. They help them apply for scholarships, secure letters of recommendation and give them the tools they need to re-enter society after treatment.
"We are in the process of creating a workshop to teach survivors how to mentor newly diagnosed patients, giving them the inspiration to achieve success as a survivor in all areas of their lives," Noskoff says. "We want to launch them while they are patients, and use their strength and determination to propel them forward and conquer their dreams."