The Vision: Every child or young adult who needs mental health treatment can receive high-quality services without stigma or barriers to access.
CHOC is determined to change these perceptions, spearheading a countywide initiative to start the conversation about pediatric mental illness and expand much-needed services. Talking openly about mental health opens the door to a world where every child and young adult in Orange County has access to mental health treatment without stigma or barriers.
Saddleback Church Co-Founder Kay Warren is determined to fight the stigma associated with mental illness. She and husband Pastor Rick Warren helped inspire CHOC to lead the mental health initiative, and they know firsthand the frustration associated with a lack of mental health resources in the Orange County area.
"In addition to the personal story of our own son, who suffered from depression and took his life in 2013 at age 27, a member of our church in Orange County shared the story of how her 8-year-old son experienced a psychiatric emergency and was stuck in an ER for two days until they could locate a pediatric bed in San Diego," Kay Warren says. "CHOC's efforts make me hopeful that parents of children with mental health conditions will be able to access a world-class pediatric center for excellence right here in Orange County."
As a psychologist who has worked extensively with adolescents, Adrienne Matros, PsyD, chair of CHOC Children's Mental Health Advisory Committee, also knows the tremendous need for mental health services—especially given that one in five children will have a diagnosable mental health disorder before age 18.
She has channeled her passion into advocacy, also serving on the Orange County Pediatric and Young Adult Mental Health System of Care Task Force, which is facilitated by CHOC. "Our first order of business is taking away the stigma associated with mental health conditions, making it ok to talk about it and to ask for help," Dr. Matros explains.
To that end, CHOC launched a "Let's Talk About It" campaign to jumpstart the conversation. As a part of the campaign, CHOC's Mental Health Advisory Committee members have been featured on local media sharing the initiative, and they carry folded business cards with the words "Let's Talk About It" printed on the back and speaking points about mental health inside. In addition to this, community resources were shared on CHOC's website and numerous social media channels, and CHOC medical staff has made numerous community presentations to further awareness of mental health issues.
"For too long, Orange County has been in a bubble, with our eyes closed to the needs of young people in regards to mental health," Dr. Matros says. "We are finally taking the courageous steps necessary to break out of the bubble and address the shame and stigma associated with mental health conditions."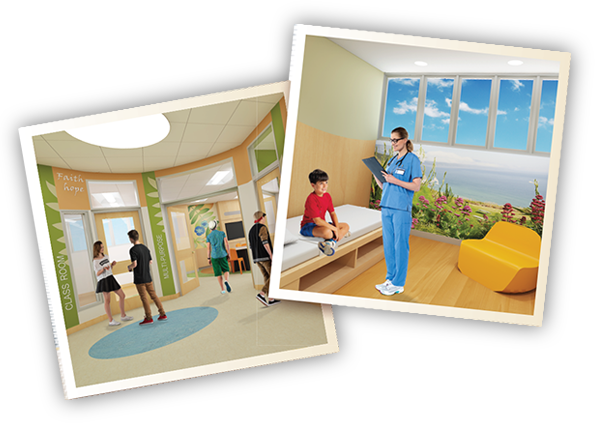 Critical to the initiative, CHOC also made progress expanding mental health services this past year. Construction began in summer 2016 to build the CHOC Children's Mental Health Inpatient Center, with completion scheduled for 2018. The center will have 18 pediatric beds to provide a safe and  nurturing place for children ages 3 to 18.
On the outpatient side, CHOC launched a co-occurring clinic with Orange County Behavioral Health Services for children whose medical conditions are complicated by mental health challenges. Depression screenings and care are also now available in several CHOC primary care clinics and some specialty clinics.
The mental health initiative is supported in part by CHOC's committed donors—a record number of whom attended the CHOC Cherishes Children Gala in February 2016, which spotlighted pediatric mental health. The gala raised $2.6 million.