Mission Statement: To Nurture, Advance and Protect the Health and Well-Being of Children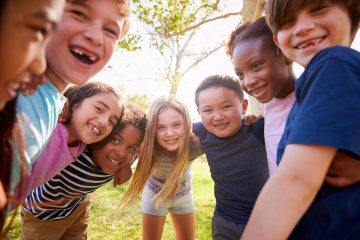 Children's Health of Orange County (CHOC), a pediatric healthcare system based in Orange County, California, is committed to being a leading destination for children's health by providing exceptional and innovative care. CHOC's growing community includes two state-of-the-art hospitals in Orange and Mission Viejo and a regional network of primary and specialty care clinics serving children and families in four counties. CHOC offers several clinical programs of excellence providing the highest levels of care for the most serious pediatric illnesses and injuries, physical and mental. CHOC's research and innovation institutes are focused on translating real patient needs into real-world treatments so every child can live the heathiest and happiest life possible.
Serving Those in Need
Our mission is straightforward: To nurture, advance and protect the health and well being of children. That's why at CHOC Hospital in Orange and CHOC at Mission Hospital, we are dedicated to working cooperatively—assisting and enriching existing services as well as developing programs to benefit the families of Orange County. Over two million children across four counties count on CHOC to be here when they need us most—regardless of their family's ability to pay.
The community is invited to send comments on CHOC's CHNA and CHNA Implementation Plan to CommunityComments@choc.org.
Understanding the 340B Program
What is the 340B Program?
The 340B prescription drug program was developed for safety-net providers, like CHOC, to help provide critical health services to underserved patients.  The program is narrowly tailored to hospitals that serve low-income individuals or isolated rural communities.
CHOC Hospital's 340B Story
CHOC Hospital is eligible to participate in the 340B program because we provide care to a disproportionate share of low-income Medi-Cal (Medicaid) patients.  In addition to the high-level services provided inside the hospital, we offer numerous outreach programs serving children and families in the community.  These include several primary and specialty care centers in numerous cities in Orange County and beyond, as well as the CHOC Breathmobile, which brings asthma prevention, diagnosis and education to schools.  CHOC also provides financial assistance to qualifying families and treats all patients regardless of ability to pay.
Benefits of the 340B Program
The 340B program supports our goal of meeting the needs of the community by increasing access to quality pediatric healthcare resources to Orange County families, especially low-income and medically-underserved children. Savings generated from the 340B program enables us to provide vital services to the community at low or no cost, including but not limited to:
Behavioral health services, including 18 inpatient mental health beds
Bedside discharge prescription services to reduce preventable hospital readmission rates
Clinical pharmacy services to patients with serious medical conditions to improve medication adherence and outcomes
Subsidies for chemotherapy and other specialty medications for Medicaid and uninsured patients requiring continuation of care
Promising new treatments, such as gene therapies and CAR-T cell treatments
New programs, including the Thompson Autism Center
340B by the Numbers (Fiscal Year 2019)
$11.6 million – approximate 340B savings, of which $4 million is passed on to the state
$250,000 – approximate cost to run the 340B program
$36 million – average annual uncompensated care (over past three years)
46% – disproportionate share hospital (DSH)* percentage
Congress should preserve and protect the 340B program as an essential part of the safety-net that does not rely on taxpayer dollars.
*DSH hospitals serve a significantly disproportionate number of low-income patients and receive payments from the Centers for Medicaid and Medicare Services to cover the costs of providing services to uninsured patients.
CHOC History: More Than 50 Years of Caring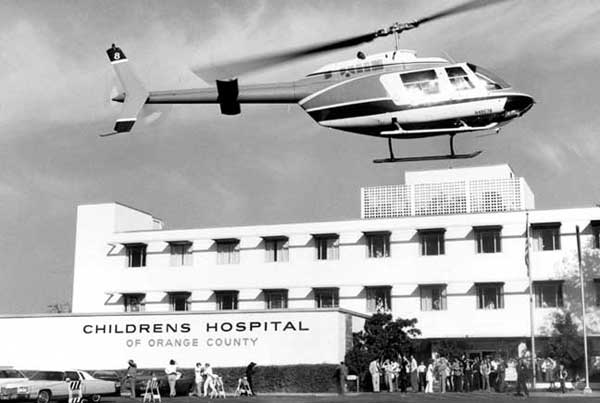 Since 1964, CHOC has nurtured, advanced and protected the health and well-being of children through innovative care and state-of-the-art facilities. What started as a 62-bed children's hospital – the first in Orange County – has grown into a pediatric health care system serving multiple counties. CHOC's rapid growth in size and community impact should be of no surprise, given its leadership and steadfast commitment to defining the future of pediatric medicine.
Proud of its rich past, CHOC's focus is on the future. And because of this, children's futures are brighter than ever. From Walt Disney to the new Bill Holmes Tower, see how CHOC has changed over the years.
UC Irvine Affiliation

CHOC and University of California, Irvine have a strategic affiliation, working together to create a world-class pediatrics center that integrates high-quality, comprehensive patient care; leading-edge research; and exemplary teaching programs.
CHOC provides inpatient and outpatient pediatric specialty care to patients, while UC Irvine Medical Center continues to provide pediatric emergency services, burn care, trauma services requiring immediate surgery, neonatal intensive care, newborn nursery care, and child and adolescent psychiatry.
Bringing advanced treatment to the bedside
CHOC and UC Irvine have a history of collaborating on research that brings advanced treatment to patients, including the National Children's Study, which is the largest and most comprehensive long-term study of environmental effects on child health and development. Through the formal affiliation, additional grants have been awarded to both institutions, and CHOC researchers have access to valuable University resources, like the Beckman Laser Institute, in an effort to bring breakthrough therapies and cures to pediatric patients.
Training the next generation of physicians
Committed to training the next generation of pediatric experts, CHOC and UC Irvine have integrated their pediatric residency and fellowship programs. Currently, UC Irvine medical students conduct their clinical clerkship rotation at CHOC, providing them with increased access to a greater number of pediatric cases and enhancing their overall training and education.
While both CHOC and UC Irvine remain separate institutions, the strategic affiliation will transform the delivery of pediatric care in Orange County and beyond.
CHOC Board of Directors
Kimberly C. Cripe
President
Janet Davidson
Chris Furman
Chair
Joe Kiani
Doug McCombs
Vice Chair
Dr. Maria Minon
Jim Morris
Tom Phelps
Ken Potrock
Marshall Rowen, MD
Kimberly Sentovich
Kimberly C. Cripe
President
Janet Davidson
Chris Furman
Chair
Joe Kiani
Doug McCombs
Vice Chair
Dr. Maria Minon
Jim Morris
Tom Phelps
Ken Potrock
Marshall Rowen, MD
Kimberly Sentovich