Surgery at CHOC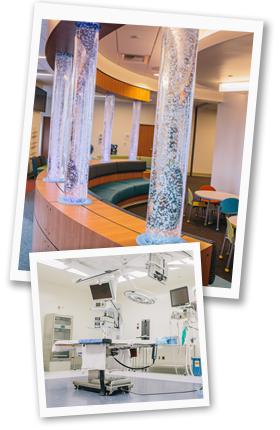 At CHOC Children's, we understand that selecting where a patient will receive surgery is a big decision.
There's no place like the Tidwell Procedure Center at CHOC Children's Hospital. We specialize in providing our patients—from infants to young adults—with the most state-of-the-art surgical services in our compassionate, family-centered environment. We are the only children's hospital in Orange County specializing in treating childhood diseases and congenital birth defects. Our pediatric-trained team of surgeons, anesthesiologists, radiologists and other specialists offer the latest surgical treatments, utilizing state-of-the-art equipment. Through the use of the latest technology, we're able to provide our patients with the most accurate diagnoses and innovative treatments available.
When a child needs a surgery, that child's needs are very different than those of an adult patient needing the same or similar procedure. At CHOC, we have specialized in pediatric surgery since we welcomed our first patients in 1964. Our experience in exclusively treating children, teens and young adults makes us the experts in pediatric surgery. In fact, our expertise has made us a top transport hospital for pediatric patients in Orange County and ranked us within the top 50 pediatric hospitals in eight different categories according to U.S. News and World Report.
In addition to being experts in the latest surgical methods for pediatric patients, we are dedicated to providing efficient, compassionate patient- and family-centered care. At CHOC, it is important that our patients still feel and act like kids while dealing with the adult issues of surgery and that their families get the support they need to focus on what is most important: patient recovery.
State-of-the-art surgical specialty programs
Our expertise is second to none. The specialists at CHOC are known for offering the latest surgical procedures by nationally recognized surgeons with the latest equipment for all pediatric patients—including the use of minimally invasive and robotic surgical methods.
World-class care
Our physicians and other health care professionals are all specially trained to work with pediatric patients. We are proud to offer patients:
We are always by your side
We are by your side every step of the way with detailed information, guides and videos detailing what patients and their families can expect while at CHOC. Learn more about preparing for a surgery or procedure at CHOC.
Once at CHOC, we are committed to continually communicating with patients and their families so that they understand what is happening every step of the way during their time in the Procedure Center . Our knowledgable nurses and skilled surgeons and anesthisologists are dedicated to making sure that each patient's family is provided with the most accurate information throughout the surgical process.
Photos

Video
Ask a Doc - Will my daughter be sedated before surgery?


Continuing this month's video series about surgery, Dr. John Cross talks about what our pediatric anesthesiologists do to make your child comfortable before going in to the operating room.
Surgery to Correct Facial Birth Defects: Dr. Toranto, CHOC Children's


In this segment of American Health Journal, Dr. Jason Toranto, CHOC Children's, speaks about Pierre Robin sequence, a condition that is present at birth in which the infant has a facial abnormality that causes difficulty in breathing.
Surgery For Children - What to Expect 7 years of age and under at CHOC


Our CHOC Child Life Specialist explains what to expect when a child comes in for surgery or procedure.
Dr. Kulkarni: Preparing Kids for Surgery


In this segment from American Health Journal, Manoj Kulkarni, MD, tells parents wht they need to know to reduce stress and anxiety in their children and also for themselves when preparing for surgery.
Dr. Kabeer, CHOC Children's - There's No Place Like CHOC


Pediatric Surgeon Mustafa Kabeer, MD, tells us why CHOC is a great place to work and why he chose pediatrics as his specialty.
More Media...
---
News and Announcements

Pressroom
|

Press Release Archive
Articles From the Blog
Visit our Blog for the most recent articles from the experts at CHOC Children's