Services at CHOC Children's :: Pediatric Intensive Care Unit
CHOC's Pediatric Intensive Care Units provide intensive and acute care to critically ill surgical and medical pediatric patients. The units include the 18-bed PICU on the 6th floor and a 12-bed PICU on the 2nd floor of the hospital.

The state-of-the art PICU is designed to foster a comfortable, family-centered care environment that encourages interaction between families and caregivers in peaceful and healing surroundings. Innovative in its design, the unit features private patient rooms with sofa/sleep beds and separation curtains for parents, satellite nursing stations throughout the unit with bedside charting, and advanced equipment that gives caregivers 360 degree access to patients. The 6th Floor PICU features a fully-equipped procedure room that enables physicians to perform life-saving procedures on critically ill children.

The 6th floor also features a satellite pharmacy so medications can be more quickly dispensed, and an onsite blood-gas lab for respiratory therapy management. Pediatric Intensive Care Specialists are available in house at all times and have on call rooms located on the 6th floor.

The 6th floor family zone, sponsored by the Ronald McDonald House, includes a bright, airy area with comfortable furnishings and a respite lounge for parents. Additional amenities include private alcoves, a kitchenette, shower facilities, internet access and a family consultation room—all just steps away from patient rooms, physicians and staff.
---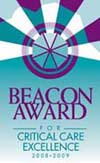 CHOC's PICU is the first in the nation to be recognized with the Pediatric Beacon Award for Critical Care Excellence, representing extraordinary commitment to high-quality critical care standards and dedication to the exceptional care of patients and their families.
The PICU succeeded in the following areas, as measured against evidence-based national criteria: recruitment and retention; education, training and mentoring; research and evidence-based practice; patient outcomes; leadership and organization ethics; and healing environment.
Congratulations to the PICU for their unwavering commitmentto high-quality critical care!