CHOC Residency Program :: Rotations

Adolescent Medicine


Advocacy


Behavior/Development


Continuity Clinics


Electives


Emergency Department


General Pediatrics Clinic (GPC)


Hematology/Oncology


Inpatient Service


International Electives


Neonatal Intensive Care Unit (NICU)


Pediatric Intensive Care Unit (PICU)


Term Nursery
The Adolescent Medicine Rotation at CHOC is designed to give second year residents a broad exposure to all aspects of adolescent health care, both at CHOC and in the community. Residents rotate through a variety of clinical sites, including the CHOC Adolescent Clinic, CHOC Adolescent Mobile Health Van, CHOC Eating Disorders Clinic, Huntington Beach Women's Clinic, Orange County Public Health Department STD Clinic, Juvenile Hall, a local group home for displaced children and wards of the state, the local AAP PE4ME school nutrition and exercise program, UC Irvine's inpatient Adolescent Psychiatry Unit, a sports medicine clinic, and a local physical therapy program.
In addition, residents spend one week at Chapman Medical Center's inpatient addiction program. This is a unique opportunity for residents to participate in group therapy sessions and education for adolescents and families affected by drug and alcohol addictions.
---
The two week Advocacy Rotation at CHOC aims to orient third year residents to the advocacy opportunities available in their immediate community and beyond. One week of the rotation is devoted to the CAST (Child Abuse Service Team) program. This is a multi-disciplinary program combining medical and legal evaluations with social and psychological support.
The second week of the rotation includes a variety of experiences. Local AAP representatives meet with residents to teach them about advocacy opportunities at the local, state, and federal level. Residents meet with CHOC's Public Relations representatives to learn how to work with the media to advocate for children and children's health issues. Finally, through the Orange County Department of Public Health, residents can participate in a variety of public health experiences that interest them. Residents might make home visits with a Public Health Nurse, for example, or shadow the Orange County Food Inspector.
---
Each second year resident spends one month on this rotation. At the CHOC clinic, they participate in the evaluation of developmental delay, behavioral issues, school problems, ADHD and autism. Residents also rotate through the the Pediatric Psychiatric clinic, Neurology clinic, Metabolic clinic, and multi-disciplinary clinics for special-needs children (such as the Muscular Dystrophy Clinic, Spinal Bifida Clinic, Craniofacial Clinic, EDAC (high risk infants), CUIDAR (Autism), and Prader-Willi Clinic).
---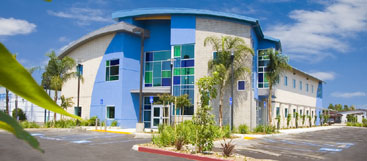 Each resident spends one afternoon a week in his or her assigned continuity clinic. Residents can choose to have continuity clinic at the main clinic adjacent to the hospital (CHOC Orange) or at one of three CHOC-affiliated satellite clinics (Clinica CHOC Para Niños, CHOC Clinic at the Boys and Girls Club, and CHOC Garden Grove). Each clinic session begins with a short talk on a general pediatric topic given by a resident or attending pediatrician. Residents then see a mix of well child visits and sick visits.
The CHOC Orange clinic is housed in the newly remodeled, state-of-the art, Ambulatory Care Center on the CHOC campus. This beautiful new facility opened in August 2008, and offers on-site radiology and laboratory services, as well as greatly-expanded patient care areas, waiting rooms, and teaching and charting areas.
The three satellite clinics are located approximately 2-5 miles from the hospital. Clinica CHOC Para Niños and the CHOC Clinic at the Boys and Girls Club are both located in the heart of Santa Ana. They provide community-based health care to a primarily Spanish-speaking patient population. These clinics are an exceptional opportunity for residents confident with their basic Spanish skills who are interested in working at a clinic with a true community feel. The CHOC Garden Grove clinic is located in the new Garden Grove Community Health Center. In addition to providing comprehensive community-based medical services and family support services, the Community Health Center is a Healthy Smiles for Kids of Orange County site , providing pediatric dentistry services to patients without dental coverage.
Each third year resident has the opportunity to spend one half day per week at a second continuity clinic site of his or her choosing. These clinics may be located in private CHOC-affiliated pediatricians' offices, at Kaiser's Tustin/Santa Ana outpatient pediatric clinic, or at other approved community sites. The goal of the second continuity clinic is to offer a broader experience and additional perspective for senior residents planning to enter primary care practice. Alternatively, residents interested in subspecialties may choose a subspecialty clinic as their second continuity clinic.
---
CHOC offers a variety of elective rotations to meet the individual interests and educational needs of its residents.
The list is extensive, and includes:
| | | |
| --- | --- | --- |
| Allergy/Immunology | Infectious Disease | Orthopedics |
| Cardiology | Metabolic | PICU |
| Dermatology | Nephrology | Psychiatry |
| Endocrinology | Neurology | Pulmonology |
| ENT | Neurosurgery | Radiology |
| Gastroenterology | NICU | Rheumatology |
| Genetics | Oncology | Surgery |
| Hematology | Ophthalmology | Urology |
As outlined by the ACGME, all residents must complete seven months of electives, chosen from a core list of disciplines. The required Hematology/Oncology rotation during the intern year at CHOC fulfills one of these requirements. On average, CHOC residents have nine additional months of elective time during which they can fulfill their remaining ACGME requirements and pursue individual interests.
Senior residents have one call-free elective month during each of their second and third years. Many residents choose away electives at outside institutions during this time, while others opt for international opportunities.
In addition to the above list, CHOC also has a unique Procedure Elective for the interns. This ensures that interns, surrounded by tremendous ancillary and nursing support, still learn the procedural skills that are necessary for both graduation and general pediatric practice. The rotation includes learning to intubate and start IVs under the supervision of our anesthesiology staff at the same-day surgery center, spending time in the casting clinic, following the blood draw teams, and giving immunizations and nebulized treatments in clinic.
---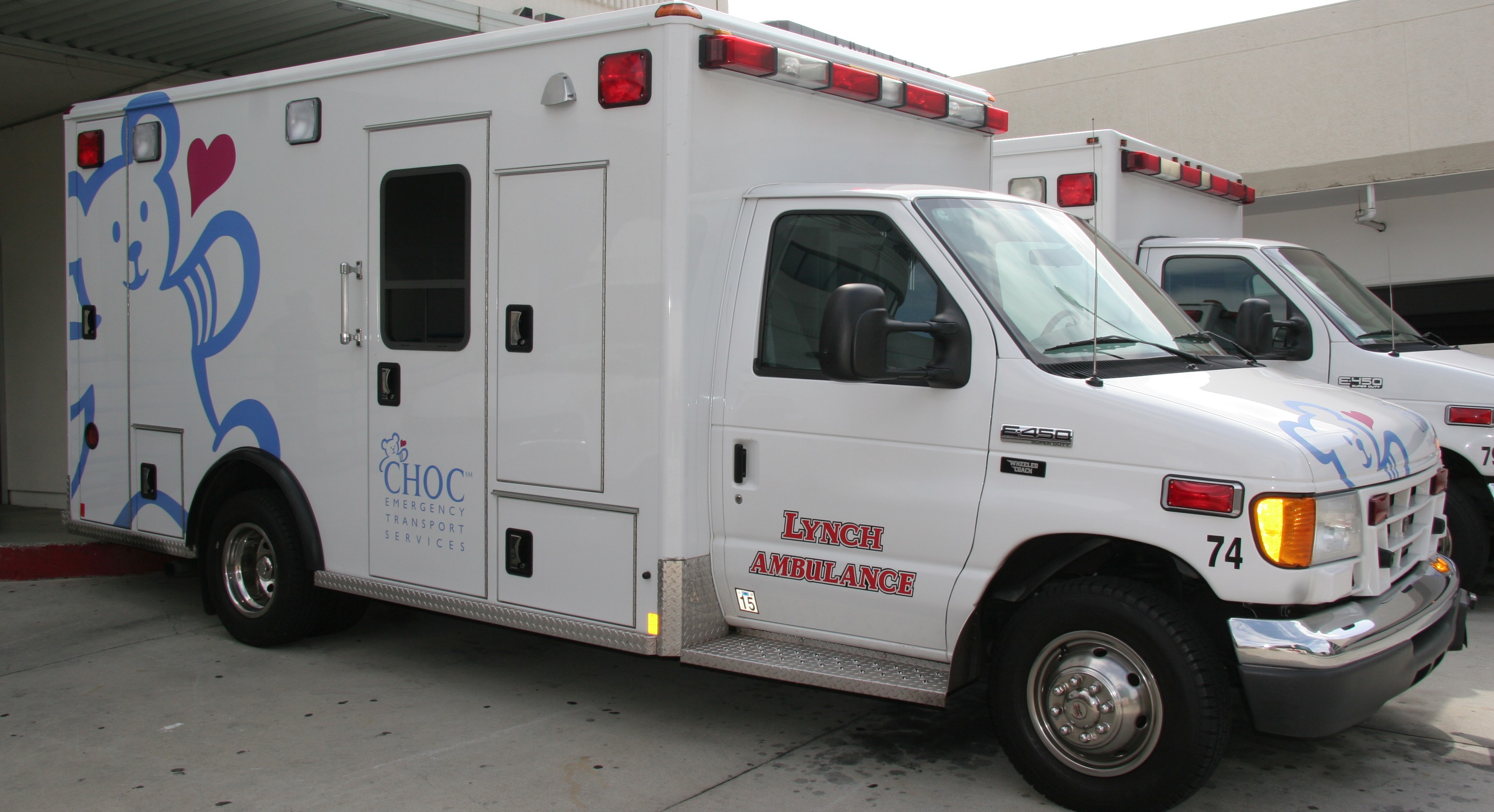 The 26-bed CHOC Emergency Department at adjacent St. Joseph Hospital sees over 47,000 pediatric visits per year. It is staffed almost exclusively by Pediatric Emergency Medicine trained and board-certified physicians. Residents rotate through the Emergency Department for a month during each of their second and third years of residency. During this time, they gain invaluable experience triaging and managing acutely ill and injured children in a high volume setting. They also perform a multitude of procedures, inlcuding casting, suturing, intubation, and lumbar punctures.
---
General Pediatrics Clinic (GPC)
The CHOC General Pediatric Clinic (GPC) sees a variety of patients and illnesses in an urgent care setting. The clinic is run by a third year senior resident under the direct supervision of a general pediatric attending physician. The senior resident works with two to three interns, and rotating third year medical students, to see patients for same-day and walk-in appointments. The clinic is housed in the newly remodeled, state-of-the-art CHOC Ambulatory Care Center, which opened in August 2008. Residents caring for patients in the new General Pediatric Clinic now enjoy access to on-site radiology and laboratory services, a treatment room, casting facilities, and expanded resident teaching and charting areas. Third year residents spend one month in GPC, while interns spend two months there over the course of their intern year.
During their General Pediatric Clinic rotations, residents rotate through the CHOC Emergency Department on urgent care "call." Urgent care call is from 5:00 pm to 9:00 pm on weekdays and from 4:00 pm to 10:00 pm on weekends. The focus of the resident's experience during urgent care call is to perform procedures, including lumbar punctures, incision and drainage of abscesses, suturing and stapling of lacerations, and splinting and casting of fractures.
---
Interns spend one month on the Hematology/Oncology floor learning to diagnose and care for malignancies of all types. In addition to the intern, the multidisciplinary team caring for these patients includes the attending oncologist/hematologist, the fellow, Heme/Onc specialty nurses, a nurse practitioner, a pharmacist and a nutritionist.
CHOC has a 28-bed Hematology/Oncology Ward, with a 12-bed Oncology Intensive Care Unit, including isolation beds for our Bone Marrow Transplant Patients.
---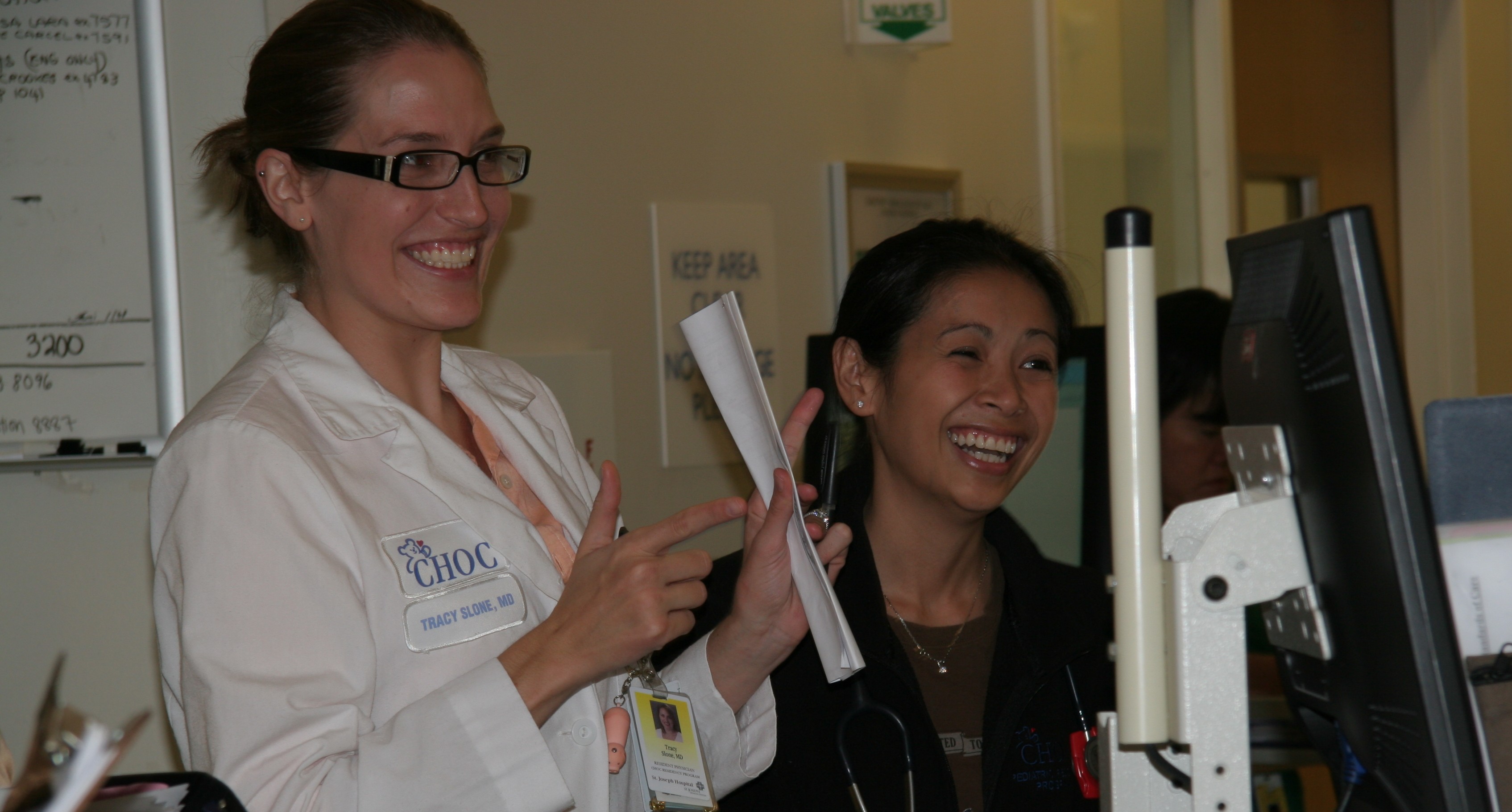 Service on the "wards" represents a large portion of the residents' patient care experience at CHOC. There are 96 medical/surgical beds, and admission diagnoses vary from general pediatric issues, such as seizures and pneumonia, to rare and complex disorders such as genetic syndromes and inborn errors of metabolism.
The primary inpatient service consists of four teams, each with one attending physician, two senior residents, two interns, and third or fourth year medical students. First year Family Medicine residents from Kaiser also rotate with the inpatient teams during certain months of the year. Attending physicians are Pediatric Hospitalists who are dedicated solely to inpatient medicine and resident teaching. Teaching rounds occur daily with the entire team, and can be sit-down rounds or walk rounds depending on the attending's preference. Each team has a dedicated case manager who also attends rounds and assists with insurance, placement, and durable medical equipment issues.
Some community pediatricians prefer to continue following their patients with the residents once they are admitted. This gives residents the opportunity to get to know community pediatricians and to benefit from a different point-of-view.
Select subspecialty patients (ie: Gastroenterology, Endocrinology) are followed by residents in collaboration with the subspecialty attending. Residents usually interact directly with the subspecialty attending, which fosters a congenial, positive learning environment and facilitates extensive didactic opportunities.
Call during the primary inpatient rotations is every fourth night. In compliance with ACGME resident work hour regulations, residents are guaranteed four days off per month, work 80 hrs/week averaged over four weeks, and leave by 30 hours on post call days.

Each resident will also spend 4-8 weeks (depending on training level) of their inpatient experience on either the Day Resident or Night Resident services. As the Day Resident, a PL-2 or PL-3 takes seven 12-hour day shifts in a two-week period. During this time the Day Resident takes care of 6-10 patients (which decreases the patient load from the four main ward teams), attends teaching rounds with one of the ward teams, and helps hold the admitting pager for the on-call teams. The Night Resident team consists of a PL-1 and a PL-2, who also take seven 12-hour shifts (7:00 pm to 7:00 am) in a two-week period. This provides three admitting teams at night to share the admissions, giving everyone more time for teaching and patient care.
---
Second and third year residents are allowed one month-long call-free elective each year. Many residents take this opportunity to experience health care delivery outside the US via an international elective.
Some residents choose to refine their medical Spanish skills by immersing themselves in the language through a program such as Pop Wuj (Xela, Guatemala) or PACE-MedSpanish (San Miguel de Allende, Mexico). Some choose primarily service-oriented experiences, such as caring for HIV-infected children at the Botswana-Baylor Children's Clinical Center for Excellence or staffing clinics for underprivileged families with the Foundation for International Medical Relief of Children in San Jose, Costa Rica.
Several attending physicians within the CHOC family are also active in medical missions and welcome resident participation. CHOC cardiologist Dr. Melville Singer, for example, has a well-established pediatric cardiology medical mission in Micronesia. Residents are always welcome to join him on his annual trips to the islands. CHOC neonatologist Dr. Sudeep Kukreja recently founded Arpan Globan Charities, an organization that works with local support in various parts of the world to provide and promote health care to the underserved. Recent Arpan missions with which residents have been involved include journeys to Ndola, Zambia, and Valledupar, Colombia. The next Arpan mission is scheduled for January of 2010 to India, where the focus will be on physician training and advanced surgical techniques.
---
Neonatal Intensive Care Unit (NICU)
Residents spend one month during each of their first, second, and third years of residency rotating through the CHOC Neonatal Intensive Care Unit (NICU). The goal of the rotation is to provide residents with experience and confidence in the resuscitation and stabilization of the critically ill neonate, to enable them to become proficient at life-saving interventions, and to develop an appreciation for the detailed care necessary to manage these fragile infants. In addition to their patient care responsibilities in the NICU, residents attend all high-risk deliveries and all after-hours C-sections at the adjacent St. Joseph Hospital. Call is every fourth night, and residents are supervised by an in-house NICU intensivist 24 hours a day.
Teaching is a priority for the NICU staff, and interdisciplinary walk rounds include attending neonatologists (often a 1:1 ratio of neonatologists to residents), specialized NICU nurses, dieticians, pharmacists, social workers, and case managers. The department has developed a core curriculum of lecture topics given to the NICU and Term Nursery residents at biweekly teaching conferences. CHOC also hosts a joint neonatology fellowship program with Harbor-UCLA, and fellows are active in patient care and resident teaching. Registered Nurse Practitioners specialized in neonatology round out the team and provide additional patient care support.
The CHOC Neonatal Intensive Care Unit is a 54 bed tertiary care NICU which cares for approximately 650 neonates each year. It offers a breadth of highly specialized care, including an extensive cardiovascular surgery program, extracorporeal membrane oxygenation (ECMO) capability, and a very active basic science and clinical research program.
---
Pediatric Intensive Care Unit (PICU)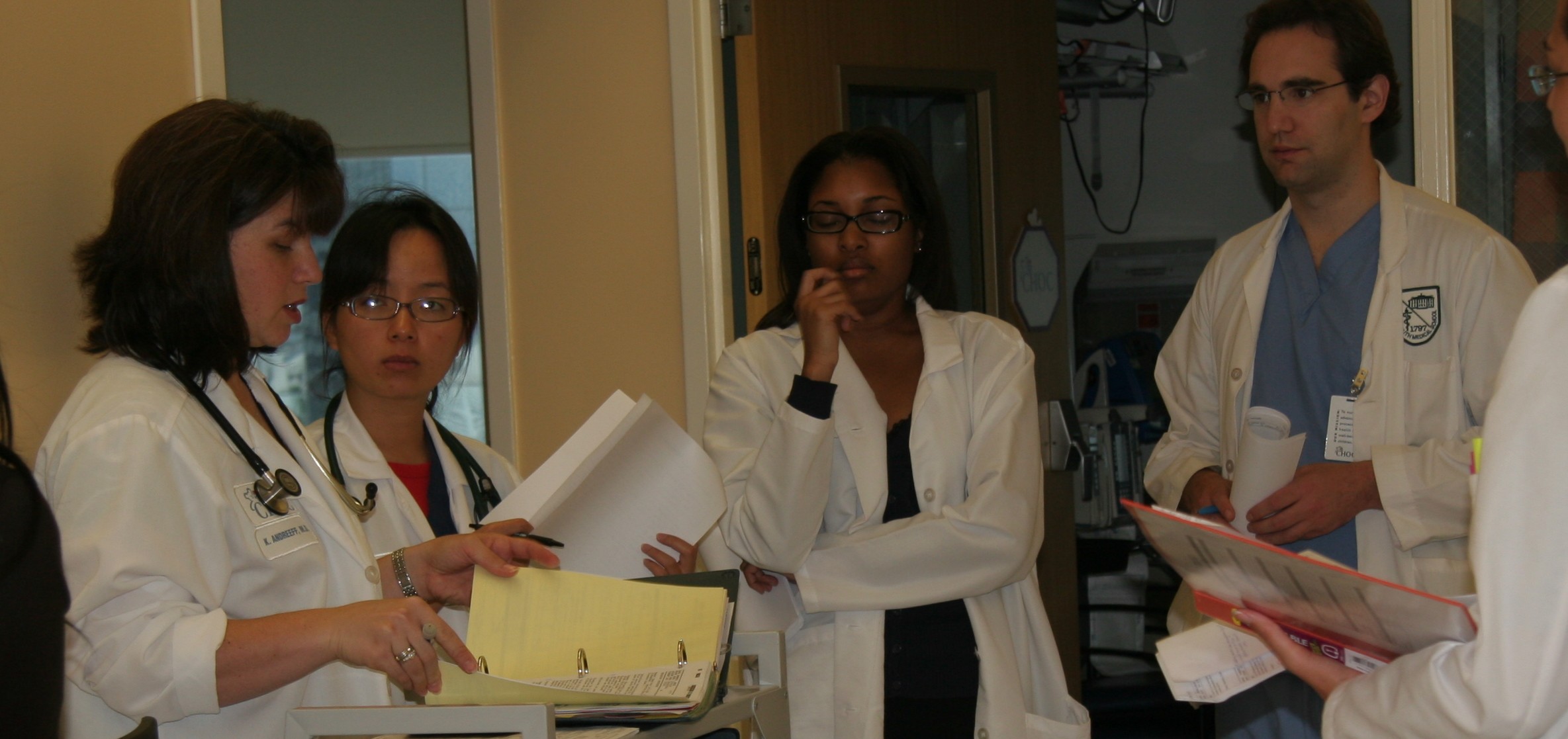 CHOC's Pediatric Intensive Care Unit houses 42 beds total: 18 Medical/Surgical ICU beds, 12 Cardiovascular ICU beds (CV-ICU), and 12 Intermediate Care beds. This state-of-the-art unit opened in October 2007, and has individual patient rooms, with adequate space for parents to room–in. Some of the rooms transform into sterile operating suites, if necessary, for emergency surgery on patients deemed too critically ill to be transported out of the unit. The ICU is very active, providing care for over 1200 children per year with a variety of life-threatening illnesses and injuries, such as cardiac disorders, CNS and respiratory disorders, and post-surgical complications. A pediatric critical care intensivist is in the hospital 24 hours a day, along with fellows from the CHOC/Harbor-UCLA joint intensive care fellowship program. The CV-ICU is staffed with cardiac ICU nurses and Registered Nurse Practitioners, and the Intermediate Care Unit is staffed by Registered Nurse Practitioners as well.
The PICU teaching service consists of a pediatric intensivist, a PICU fellow, and four senior residents. Rounds take an interdisciplinary approach, and often include the ICU nurses, dieticians, pharmacists, social workers, and case managers. Call during this rotation is every fourth night. When possible, one resident rotates weekly through the CV-ICU to round on patients and discuss diagnostic and management problems specific to our congenital heart disease patient population.
CHOC has the third busiest pediatric transport program in the nation. In addition to medical-surgical patients, the CHOC Transport Team brings more than 2500 patients to the NICU and PICU each year from over 120 outlying community hospitals. The program offers an optional 2 week transport elective to senior residents interested in refining their skills at resuscitation and stabilization of critically ill infants and children under the direct supervision of an ICU attending.
---
Directly adjacent to CHOC is St. Joseph Hospital, which has over 6,000 deliveries per year and provides the term nursery experience for CHOC residents. Residents spend one month during their intern year at St. Joseph's, learning normal newborn care, resuscitation techniques and anticipatory guidance for new parents. Noon lectures on relevant nursery and neonatology topics are held twice a week with a neonatologist and the NICU residents.