CHOC Research :: About the Research Institute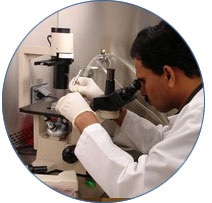 Looking towards advances in prevention and treatment of childhood diseases, Children's Hospital of Orange County has made a significant commitment to basic science and clinical research. Our state-of-the art basic science research laboratories support four primary areas of research; Molecular Neurobiology, Immune and Inflammatory Disease, Cancer, and most recently, the identification and isolation of non-fetal stem cells that might someday be cultured and used to replace nerve tissue destroyed by disease or injury.
Many devastating diseases of childhood are autoimmune. Understanding why the body's immune system turns against itself in diseases like juvenile rheumatoid arthritis, type I diabetes, lupus and immune thrombocytopenia is the goal of the Immune and Inflammatory Disease Research Consortium. Work in this laboratory focuses on immune mediators of disease called cytokines. Cytokines have a profound influence on the course of these illnesses. Knowing how to control these cytokines will someday lead to better treatment of a wide range of chronic and debilitating illnesses. This work is supported in part by the NIH.
CHOC's Cancer research group is working to develop cancer vaccines that may someday be effective against solid tumors like neuroblastoma and breast cancer. This group also looks at factors that support tumor growth in an attempt to block the development of these cancers. Another area of focused study is the ability of cord blood stem cells to kill cancer cells in patients undergoing umbilical cord blood transplant.
CHOC's clinical research program supports clinical trials in all of our subspecialty areas, allowing our physicians to provide state-of-the-art treatment options to children failing conventional therapy or to children with illnesses for which there is no standard therapy. CHOC is the only approved full-member institution without an academic affiliation in the Children's Cancer Group (CCG). CCG has approved CHOC as both a Phase I Clinical Trial and Bone Marrow Transplant institution. CHOC's open CCG protocols offer our pediatric cancer patients access to the latest and most current treatment modalities. All research at CHOC is supported by funding provided by the Hospital Board of Directors and by grants from the CHOC Foundation for Children.
Federal confidence in CHOC's researchers and research programs, is evidenced by over 20-million dollars (and growing) in support annually. This support comes in part from NIH, the Centers for Disease Control (CDC), and the Maternal Child Health and Development Bureau (MCHB). In light of CHOC's recent affiliation with University of California, Irvine, federal support will likely grow and diversify.