CHOC Children's Publications
Kid's Health (Archive)


Our award-winning Kid's Health Magazine is designed to provide healthful information for your growing child. Please Note: Kid's Health Magazine is no longer being printed. Please visit our blog at http://www.choc.org/blog for the latest articles about your child's health from the experts at CHOC Children's. You can also receive our electronic Kid's Health newsletter in your inbox by subscribing to our mailing list: http://www.choc.org/subscribe
Go to the Magazine Archive
Go to the Blog
Subscribe
---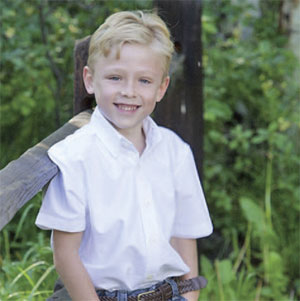 CHOC Feeding Program Helps Children Thrive

If you spotted 7-year-old William Davis skiing on the slopes near his home in Eagle County, Colorado, you'd never guess that until a few years ago he couldn't eat like most kids his age. Instead, he relied on a gastrostomy tube (G-tube) to provide almost all of his nutrition. Born at 25 weeks, and weighing only 1 pound 10 ounces, William remained in the neonatal intensive care unit (NICU) for seven months. It was during this stay that the G-tube was first inserted.

Over time, William grew accustomed to getting food through his G-tube. As a result, he never learned how to eat and developed an aversion to food. Because William found it uncomfortable to eat, he started associating eating food with pain.

When William turned 4, his parents became concerned that William would never learn how to eat. "We had tried all kinds of outpatient programs, but nothing seemed to work. It felt like we weren't making any progress," recalls William's father, Brian Davis.

Determined to help their son, the Davis family started researching inpatient feeding programs across the country. After speaking with Mitchell Katz, M.D., medical director of the Feeding Program at CHOC Children's, Brian felt hopeful. "I liked Dr. Katz's gentle philosophy and the program's multidisciplinary approach," he says. William was accepted into the program and the family scheduled a four-week visit to Orange County. "It was a long way to travel, but we were willing to do anything to help him learn to eat normally," Brian explains.

Changing a Child's Relationship with Food
The feeding program at CHOC is intensive. It involves three family feeding therapy sessions a day to help children develop chewing and swallowing skills and learn how to feed themselves.

The program also includes daily visits with members of the 12-person multidisciplinary team. These specialists include a gastroenterologist, nurse practitioner, dietitian, psychologist, speech and language pathologist, occupational therapist, social worker and child life specialist. "We control everything in the child's life for those three weeks, all working toward one goal— to help change the child's relationship with food," says Dr. Katz. "We want to teach the kids that eating is a normal event."

One aspect that makes the program unique is its flexibility in adapting to each child's specific needs. "We're constantly working with the kids and their parents to modify our approach based on the individual family's needs," says Dr. Katz. "We make adjustments every day and have open communication among all our team members."

A Family Experience
Parents go through the program with their child and are considered an integral part of the team. "Feeding problems are stressful for the entire family," says Dr. Katz. "In many cases, meal times become a battlefield. We can help parents construct a new relationship with their child and change the lives of everyone in the family for the better."

When William entered the feeding program, he was getting about 95 percent of his nutrition from the G-tube. After three weeks in the program, he was only using the G-tube for 30 percent of his nutrition. Just a few months after the Davis family returned home, they were able to remove the G-tube for good. "We continued to use the techniques that we learned at CHOC, and we just did it," notes Brian. "It was a huge relief to finally take it out."

The Best Eater in Class
These days, William loves eating. In kindergarten, he received an award for being the best eater in his class. He tells his parents he'd like to return to CHOC and show them how he eats ribs. "He wants to help other kids and show them what he can do," Brian says.

To learn more about CHOC's feeding program, please visit www.choc.org/feedingprogram .