CHOC Children's Publications
Kid's Health (Archive)


Our award-winning Kid's Health Magazine is designed to provide healthful information for your growing child. Please Note: Kid's Health Magazine is no longer being printed. Please visit our blog at http://www.choc.org/blog for the latest articles about your child's health from the experts at CHOC Children's. You can also receive our electronic Kid's Health newsletter in your inbox by subscribing to our mailing list: http://www.choc.org/subscribe
Go to the Magazine Archive
Go to the Blog
Subscribe
---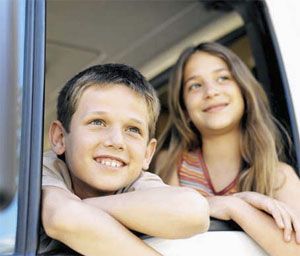 Hit the Road Safely This Summer

Taking a road trip can be a fun way for the family to travel. But it also can make for antsy passengers if they don't have enough to keep them entertained. Here are tips to not only keep your crew safe and healthy, but also keep them content as the miles go by.
Before You Leave
Prepare a first aid kit that contains antacids, throat lozenges, antiseptic cream, bandages, antibacterial wipes, insect repellant, sunscreen and aloe gel for sunburns. You also may want to include decongestants or antihistamines for allergies. Bring an adequate supply of any prescription medications family members regularly take.
Stock up on plenty of nutritious snacks and drinks to supplement meal stops. Nonperishable items make the best and safest road food. Be sure to include water. Keeping your passengers hydrated will help them avoid fatigue and light-headedness.
Bring a "fun bag" stuffed with favorite books, games, and other items your kids enjoy.
Make sure your car is running well to avoid any roadside emergencies. Have your car checked for necessary repairs and, if necessary, have it serviced before leaving. Pack an emergency kit with jumper cables, a flashlight, flares and equipment for changing a tire, just in case.
On the Road
Make sure everyone's buckled up, with babies and children in appropriate car seats in the back.
Take breaks at least every two hours. Be sure everyone gets out of the car to stretch his or her legs and walk around.
When not driving, get exercise and eat well.
Remain calm while driving and steer clear of aggressive drivers on the road. A stressed out driver can affect the rest of your passengers.
CHOC Offers FREE Child Passenger Safety Education
Help ensure your smallest passengers are properly fastened in their car seats by visiting www.choc.org and clicking on the "Community" section to view California law requirements. A list of safety recommendations also is available. CHOC Community Education also offers FREE child seat safety classes and a low-cost car seat distribution program in English and Spanish. For more information, please call 714-532-8887.
Six Ways to De-Stress Your Next Family Vacation
"Vacation stress" may sound like a contradiction in terms. But any kind of change even a fun one—can trigger stress. Add children to the mix, and you have a recipe for more work than relaxation. But some preplanning can help keep everyone smiling:
Involve older children in decisions about where to go and what to do on vacation.
Let kids be kids. Plan at least one child-oriented activity a day, such as a visit to the zoo.
Don't feel pressured to spend a lot of money.
Plan fewer activities than you think you have time for. Rushing to reach a destination or catch a flight can add unwelcome stress to your family vacation.
Schedule time for stress-busting naps and exercise along the way.
Accept that some arguments are a natural part of family life. To keep anger to a minimum, let your children win on minor issues that aren't worth fighting over.