CHOC Children's Publications
Kid's Health (Archive)


Our award-winning Kid's Health Magazine is designed to provide healthful information for your growing child. Please Note: Kid's Health Magazine is no longer being printed. Please visit our blog at http://www.choc.org/blog for the latest articles about your child's health from the experts at CHOC Children's. You can also receive our electronic Kid's Health newsletter in your inbox by subscribing to our mailing list: http://www.choc.org/subscribe
Go to the Magazine Archive
Go to the Blog
Subscribe
---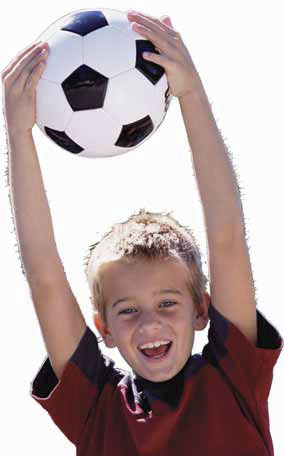 Teens Experiencing More Career-Ending Injuries

It makes the news when a professional athlete suffers a career-ending injury, but did you know the same thing is happening at an alarming rate in teen athletes? CHOC orthopaedic surgeon Steven Meier, M.D., who directs the CHOC at Mission Sports Medicine Program, says many of these career-ending injuries could be prevented.

Dr. Meier attributes the rising rates of traumatic and overuse injuries to three factors: increased competitiveness in school and league sports, the advent of year-round sports participation, and the lack of proper training and conditioning.

"The increased competitiveness may be driven by societal attitudes, athletes-unrealistic expectations and parental pressures," he says. "In the past, athletes had an opportunity to heal overuse injuries in the off-season. These days, a young athlete may never have an off-season. Repetitive abuse may end up destroying a knee or shoulder, effectively ending the athlete's career before age 16."

TRAUMATIC FOOTBALL INJURIES
According to SafeKids Worldwide, more young players ages 5 to 14 sustained injuries playing football than those playing basketball or softball. In 2002, more than 187,000 children ages 5 to 18 were treated in hospital emergency rooms for football-related injuries.

Dr. Meier frequently sees football-related knee injuries such as anterior cruciate ligament (ACL) and medial collateral ligament (MCL) tears; shoulder dislocations and separations; ankle sprains; muscle contusions; concussions; and 'burners' and 'stingers,' injuries of upper-extremity nerves.

"These injuries could be prevented by proper use of safety equipment and by avoiding dangerous tackling techniques, such as spearing. Also, head injuries need to be recognized and properly managed when they occur to prevent a dangerous recurrence,"Dr. Meier says. "Improved training and conditioning regimens are also necessary."

ACL INJURIES IN GIRLS
Girls sustain more ACL knee injuries than their male counterparts, particularly during volleyball and soccer. Dr. Meier is highly concerned because ACL injuries are serious conditions that usually end the athlete's season and require surgical reconstructive surgery.

"The higher incidence of ACL injuries in girls has to do with body mechanics and muscle activity," Dr. Meier says. "When running and jumping, many girls are prone to moving in ways that put themselves in positions where the knee is vulnerable to injury."

Specific training and conditioning programs can prevent these devastating injuries. The CHOC Sports Medicine Program is encouraging schools and sports leagues in the community to adopt these programs.

THE CHOC SPORTS MEDICINE PROGRAM
The program now provides leading-edge evaluation and treatment of sports injuries unique to children and teens, including:
ACL injuries with open growth plates
Little league elbow
Shoulder instability
Knee/patella-femoral disorders
"Our vision is to provide state-of-the-art care for young athletes, whose needs are often very distinct from their adult counterparts," Dr. Meier says. "We combine the skills and talents of specialists in numerous fields, including athletic trainers, primary care medicine, rehabilitative medicine, orthopedics, neurology, neurosurgery, pulmonology and cardiology."

For more information, please call (949) 600-8800.