CHOC Children's Publications
Change CHOC, Change the World Campaign Newsletter


CHOC Children's Launches Campaign to Fulfill Destiny of the Hospital

---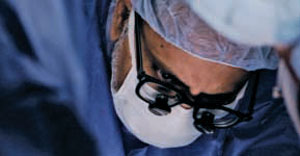 People Make Greatness Happen
CHOC's subspecialty doctors speak to the need for endowment funds
Dr. Mustafa Kabeer, a pediatric surgeon at CHOC Children's, works eighty to eighty-five hours per week and performs nearly 600 operations a year. Dr. Michael Muhonen, CHOC's director of Neurosurgery, rarely has a week that doesn't include multiple emergency brain surgeries. Dr. Antoine Khoury, chief of Pediatric Urology, spends twelve-hour days at CHOC, plus teaches at the UC Irvine School of Medicine, and directs vital research in the evenings and on weekends. For these doctors and many others, however, it's not a competition; it's a calling, a responsibility and a duty to keep Orange County's children as safe and healthy as possible.

"We're like the policemen, the firemen—always standing by and ready. We have to make that kind of commitment, to be here to address serious acute illness and severe chronic conditions," says Dr. Nick Anas, CHOC's Medical Director of Pediatric Intensive Care.
CHOC Children's is at the hub of a regional pediatric healthcare system serving the needs of two million kids across four counties. With the volume and complexity of cases coming at CHOC— over 200,000 patients a year, with 4,000 inbound ambulances and helicopters—more pediatric subspecialty doctors are needed.

Unfortunately, nationally there is a very small pool of elite subspecialty doctors who dedicate their lives to pediatrics, and the entire country is competing for that pool, according to Dr. Vijay Dhar, medical director of CHOC's Neonatal Intensive Care Unit. "The U.S. is not producing as many specialists as the country needs," he says.

"Ever year, there are somewhere between twenty-four and thirty-two pediatric surgeons that graduate in all of North America—that's all of Canada and all of the U.S. And there are 160 job openings in the country. There were 120 job openings two years ago," says Kabeer.

CHOC must compete to recruit scarce subspecialty doctors against other markets where the cost of living is lower than that of Orange County and state reimbursements for government-insured patients are higher than they are in California. Underinsured and uninsured patients have a major economic impact on all children's hospitals— a factor that is not driven just by the need to treat the poor. Even families with private insurance, whose children suffer from chronic disorders, often hit the limit of their healthcare plans in just one year of care. With their insurance benefits exhausted, these families find themselves in the same category as many of the patients at children's hospitals—they must rely on state funding, which pays a small percentage of the total bill for care.

"When so many patients are on government aid—very close to free care—it's difficult to recruit physicians as they are faced with the reality of making government wages. The reimbursement is extremely low making it difficult for some pediatric subspecialty fields to survive" says Muhonen.

To break this cycle, CHOC Children's actively engages state politicians to help them understand the unique economic pressures on children's hospitals. In addition, CHOC must do what other leading children's hospitals have done—raise a substantial endowment to supplement the funds available to attract top physicians. The average endowment of leading children's hospitals in the U.S. is $265 million (average age, 111 years old). At just over fortyfive years old, CHOC Children's is striving for greatness while constrained by an endowment that is only five percent of this benchmark. It is a young hospital in a young county, "My hope is that we can convince people that there is nothing more important they can do than to raise funds to keep a children's hospital going and help us fight this battle against serious pediatric diseases" says Leonard Sender, MD, medical director and a pediatric oncologist.

With the construction of CHOC's new stateof- the-art tower and its educational and research affiliation with UC Irvine, a healthy endowment is the final ingredient necessary to draw top talent. Income from endowments helps CHOC attract doctors who are clinical, research, and teaching stars—the kind of physicians prepared to address the complex cases the hospital faces, and leverage the experience to make critical advances toward the cure of pediatric diseases.

"With good people come discoveries," says Khoury. "Through research and clinical trials, supported by advanced medical technology, we make breakthroughs that improve the prognosis and outcomes for patients."

What ultimately makes CHOC great are its people: "The jewel is right here. It's in front of our eyes. It's the people who work here. It's the human capital," says Kabeer.