CHOC Children's Publications
Change CHOC, Change the World Campaign Newsletter


CHOC Children's Launches Campaign to Fulfill Destiny of the Hospital

---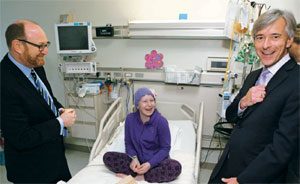 Hyundai Gives $10 Million to Drive Customized Cancer Research
Gift will fund development of a new approach to treating pediatric cancer at CHOC
When two major advocates for children unite to push forward a cause, great things can happen. This is precisely what occurred when CHOC Children's received a $10 million gift from Hyundai Motor America and its nonprofit arm, Hope on Wheels, to fund leading-edge pediatric cancer research that utilizes the latest advances in genomic medicine. The gift, which is the largest corporate donation ever received by CHOC, will help provide children who are suffering from cancer with more effective and personalized treatment.

"For more than a decade, we have been stalled at curing 80 percent of pediatric cancer in the U.S., and that means 20 percent are not cured. So what do we do for the 20 percent for whom standard therapy stops working?" says Leonard Sender, MD, CHOC's medical director of the Cancer Institute, who was instrumental in building the relationship with Hyundai that lead to the unprecedented gift. Sender will direct the new initiative. "The strategy used in this concept is to find and deliver the right medicine to the right patient, informed by detailed molecular genomic investigation of an individual patient's tumor," says Sender

"We've found an incredible partner with CHOC Children's, where breakthrough genomic research and individualized clinical care will move us closer to a world where no child dies of cancer," says John Krafcik, president and CEO of Hyundai Motor America.

Sender's idea is built on the field of genomic medicine, which came into being just over a decade ago when work began to map the first two human genomes. The human genome, the entirety of an organism's hereditary information, comprises a sequence of nearly 3 billion component parts that are organized into DNA molecules. The international research effort revealed nature's complete genetic blueprint of a human being cost $5 billion to complete. In the years that followed, the price of mapping a genome plummeted due to research by scientists around the globe. The result, says Sender, is that the sinking price tag may soon allow for detailed genetic analysis of individual patients. While genomic medicine has been used in adult medicine, Sender determined the time was right to bring this application of molecular methods to clinical medicine for pediatric cancer.

"With the coming together of this genome project, we may be able to personalize genome testing to look at the risk factors and see how we can intervene and help with preventative medicine for children. We'll move beyond just real basic science —and build on it —while taking it closer to the patient." says Sender.

To do this, Sender will partner with academic researchers, genomic medicine technology leaders, and pharmaceutical companies to bring the next generation of medicine to the pediatric cancer population.

This new partnership with CHOC marks Hyundai's long-time commitment to finding a cure for childhood cancer. Since 1998, Hyundai and its nearly 800 dealers have been dedicated to raising funds and awareness for childhood cancer, says Zafar Brooks, who leads Hyundai's philanthropic division, Hope on Wheels, as Dr. Leonard Sender, Medical Director of the Hyundai Cancer Institute, left, patient Samya Wareh, and John Krafcik, president and chief executive officer of Hyundai Motor America. ©Ryan Miller/Capture Imaging 5 the director of General Affairs, Government Relations, and Diversity Outreach. With this gift, Hope on Wheels has committed more than $43 million in donations to pediatric cancer research since the program began thirteen years ago. Hyundai has donated millions through grants that support pediatric cancer and the research of specialists who work with children with cancer.

"There couldn't be a higher calling than to help our kids and to invest our resources in research for which we think a cure and better treatment are on the horizon," says Brooks. "One of our guiding principles and values is to be a car company that has a bold voice and tries to find innovative solutions for communities."

Hyundai's interest in investing in Sender's plan came out of the company's desire to make a significant investment in an idea that will make an impact in pediatric cancer, the leading cause of death in children. "Dr. Sender has the background, the pedigree, and the credentials to do this work. And we believe this kind of money could serve that goal," says Brooks.

"This amount of money and this trust that Hyundai has in our ability is the beginning of something fantastic at CHOC. How we integrate these technologies offers the possibility that the percentage of kids who die from cancer will be made smaller. It's a great coming together of two Orange County-based organizations," says Sender.