CHOC Children's Publications
Change CHOC, Change the World Campaign Newsletter


CHOC Children's Launches Campaign to Fulfill Destiny of the Hospital

---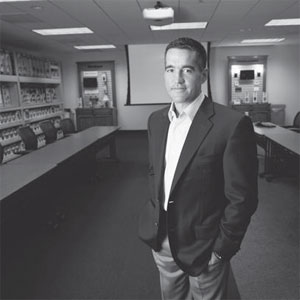 Donors Step Up to Support the Evolution of CHOC Children's
Leading citizens rally around campaign to raise vital funds
For the Change CHOC, Change the World campaign to be a success, the hospital needs a coalition of business and citizen leaders to endorse the message and then actively telegraph its virtues to others to spur investment in CHOC's future. And this is exactly what many of CHOC's prominent donors have done in their efforts to help it evolve into a world-class children's hospital.


While the donors share similar sentiments about CHOC's value in the community, they reached their decisions to give in different ways. And with each new donor, CHOC moves one step closer to reaching its $125 million campaign goal.


For some, a personal experience drew them closer. Ron and Cindy McMackin, who gave $500,000 to support the campaign, had such an experience. Ron, the president of Irvine-based Pan-Pacifi c Plumbing, and wife, Cindy, who works in its marketing department, became friends with Dr. Michael Muhonen, Director of Neurosurgery and Medical Director of the CHOC Neuroscience Institute. As the friendship grew, the McMackins began to attend fundraising events and support the Neuroscience Institute. And when their 3-year-old granddaughter, Cate, developed a brain tumor, their fi rst call was to Muhonen. Four days later, Cate was in surgery at CHOC.


"Suddenly, this experience was in our family. It was very emotional. We were already supporting the hospital at the time, but this brought us even closer. Now, we can't seem to do enough to help," says Ron.


"It was a very special experience. CHOC cares for the whole family—not just the patient," says Cindy. "All of this really solidifi ed our support for CHOC."


Cate is now fi ve years old and doing fi ne, and CHOC has become a main focus for the McMackins.


Jim Caudill, a CHOC Children's Foundation board member and former president of Black & Decker Hardware and Home Improvement Group, which gave $500,000 to name the Conference Room in the new tower, also recognizes how important CHOC can be for families. Caudill, says that many of the 400 employees who work for the Lake Forest-based division have children, and many have made trips to CHOC for everything from bumps and bruises to more serous pediatric illnesses.


"When people have kids and visit CHOC, they see the expertise and the level of services that are very unique to this area. Due to the importance of CHOC in the community and the impact it makes, Black & Decker has stayed connected to CHOC and its future," says Caudill.


Some of CHOC's donors have also been driven to action due to the demands put on the hospital by the burgeoning community. "This is the resource for children in this county. It serves three million people. Without CHOC, there is no care for these kids—and that is a constant struggle," said Dr. Paul Lubinsky, Associate Director of CHOC's Pediatric Intensive Care Unit and President of CHOC's Pediatric Subspecialty Faculty (PSF). The 140 physicians of the multispecialty pediatric group donated $1 million to name the Outdoor Play Area in the tower. The PSF's gift is dedicated to the new tower because the new building is a major step in advancing quality, cutting-edge, care, says Lubinsky.


"It's a donation supporting the fact that what CHOC does for children no one else can do in Orange County," he says.


"As an organization, we recognize the importance of this campaign and the construction of the new tower to the long-term viability and success of CHOC to serve patients in the future." —Jim Caudil
Hale Kuhlman, Executive Director of the PSF, agrees. "It's crucial that CHOC's physicians are willing to give back. The $1 million donation was meant to set the tenor for the community in terms of what kinds of gifts people need to be thinking about," he says.


For many donors, their gifts have become their largest ever to CHOC. The reason is simple, says Caudill: "To expand, CHOC needs increased funding. CHOC's campaign and new tower project have become the primary cause that Black & Decker Hardware and Home Improvement Group supports, and the organization is rallying around it."


Such a rallying cry can also be heard in the efforts of the group Persian Community for CHOC (PC4CHOC), which was organized by Dr. Ali Kavianian, Surgeon-in-Chief of CHOC. Kavianian began the group to broaden awareness and to cultivate fundraising for CHOC's campaign within Orange County's Persian community.


"For CHOC to remain competitive, it needs to move to the next level," says Kavianian. "Many in the Persian community feel obligated to help and do what they can to make this happen."


Mariam Khosravani, a member of PC4CHOC says, "We want to make sure there is always help and hope for children in our community when they need it—and we cannot afford not to get behind CHOC."


To join this influential group of citizenleaders and support the Change CHOC, Change the World campaign, please send in your donation using the enclosed envelope, or go to iamforchildren.com/giving. Your contribution will allow CHOC to provide the best available care to children and families in our community.