CHOC Children's Publications
Change CHOC, Change the World Campaign Newsletter


CHOC Children's Launches Campaign to Fulfill Destiny of the Hospital

---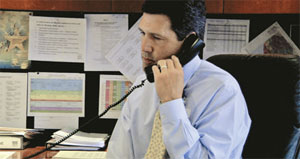 Hoag Says CHOC Is "The Place" for Children in Orange County
CHOC manages Newport Beach hospital's medical care for children and infants
Children's hospitals operate on a different principle than community or "adult" hospitals for one main reason: Children are not small adults. They are distinct enough, physically, to require doctors and nurses to have specialized medical knowledge, training, and equipment to treat them.


To this end, the more innovative practices and advanced capabilities that CHOC Children's develops, the more hospitals in our community will look to CHOC to complement their service offerings to children. For example: CHOC is one of the only children's hospitals in the U.S. to have 24-hour board-certifi ed critical care and neonatology specialists running its units. This superior level of specialized care is why Hoag Memorial Hospital Presbyterian in Newport Beach, California, invited CHOC to enhance Hoag's pediatric care.


"CHOC is the best provider of children's care in this market—period," says Richard Afable, M.D., President and Chief Executive Offi cer, Hoag Hospital. "Rather than trying to re-create what only they can do, we are partnering with CHOC in order to bring the best in children's health care to this community. It's the right thing to do."


Through the formal affi liation, CHOC helps Hoag adopt a comprehensive way of thinking about the health and well-being of the children in its community by giving Hoag more consistent access to specialized pediatric care—care previously only available by traveling to the CHOC campus.


Hoag is a major birthing hospital in Orange County, delivering nearly 6,000 babies per year. As part of the agreement, Hoag's Neonatology Intensive Care Unit, where at-risk newborns are rushed after delivery, is staffed and managed by the CHOC Pediatric Subspecialty Faculty, a specialty physician group affi liated with CHOC.


Children and families in coastal Orange County also have more services available to them due to Hoag's expanded pediatric outpatient services. Hoag Health Center in Newport Beach houses both the CHOC Children's Specialty Center and the CHOC Children's Endocrine and Diabetes Center. The centers make scarce pediatric subspecialty doctors accessible by bringing cardiology, gastrointestinal, pulmonary, genetics, hematology, neurology, diabetes, and endocrinology services to the children in the area. The partnership also establishes a true connection to CHOC with the addition of a designated team to quickly evaluate and transport Hoag pediatric patients to CHOC when children or infants require more intensive inpatient care.


"Every hospital in this county should be supporting CHOC Children's," says Afable. "Again, it is the right thing to do."