CHOC Children's Publications
CHOC Children's Annual Report


Everyone in Orange County is somehow connected to CHOC Children's. If it's not your own children that have been treated by our team of pediatric experts, chances are you know a few that have. Among friends, neighbors, coworkers, even people we encounter in our daily travels—CHOC is a common bond we all share. In this report, you will learn about some of our finest moments.

---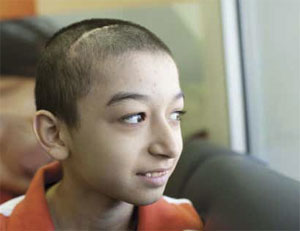 Calming the Epileptic Storm

The activity in a child's brain during a seizure is often likened to an electrical storm. And when Erick and Liza Faught's 5-month-old son, Bailey, had his first seizure, it seemed just like that. The next seizure came a week later, then continued to increase in frequency and severity.

A 12-year journey into finding answers and effective treatment options for Bailey's epilepsy had begun. The Faughts tried every anti-seizure medication and diet available in an attempt to control Bailey's seizures.


There are so many newer and better treatments for epilepsy," Dr. Zupanc said. "In the future, we'll be able to tell parents if the epilepsy is hereditary, how likely a child is to go into remission, and what kind of treatments work best.
Meanwhile, Liza did her own research. She started hearing about pediatric epileptologist Mary Zupanc, M.D., who had an innovative epilepsy program for children in Wisconsin. Liza was intrigued, but learned that her son's insurance wouldn't cover the trip.

By December 2010, things became much worse. Bailey was having seizures more frequently, and they were using rescue medications more than ever before. The seizures made it difficult for Bailey to eat and take his medication. They also took a toll on his cognitive and physical skills. It was heartbreaking for the Faughts to see their son, who loved to run and play, confined to a wheelchair. They were afraid they might be losing him.

Earlier this year, Liza heard that Dr. Zupanc was leaving Wisconsin and coming to CHOC Children's.

"Seriously, I fell down and started to cry,' Liza said. "I said, 'I have to go. I have to call CHOC Neurology right now!'"

The rumor was true. And Liza was more than ready for Bailey's first, hours-long appointment with Dr. Zupanc.

"I cried during the appointment because I realized Dr. Zupanc had already read Bailey's chart and knew all about him," Liza said. "She was asking me questions just to confirm the information, and I could see her genuine concern for him."

Dr. Zupanc arranged for electroencephalogram (EEG) monitoring to evaluate Bailey's seizures and pinpoint the location of where they were originating in his brain. The results pointed to surgery as a viable treatment option.

Liza had long suspected Bailey's epilepsy might be caused by a genetic disorder because her family has a history of seizures. Genetic testing showed Bailey does have a chromosomal abnormality, one that was only discovered in 2010.

"I don't think words can ever thank Dr. Zupanc for what she's done in such a short amount of time," Liza said. "She is committed to not just our son, but to all the families who come to CHOC looking for an answer."

Level 4, Comprehensive Epilepsy Care Comes to Orange County
In February 2011, pediatric epileptologist Mary Zupanc, M.D., came to CHOC Children's to develop a Level 4 Comprehensive Epilepsy Center for children with uncontrollable seizures. Dr. Zupanc has built comprehensive pediatric epilepsy programs at Mayo Clinic, Columbia University, the NYU School of Medicine and, most recently, Children's Hospital of Wisconsin. She has published more than 35 peer-reviewed scientific papers. The latest, detailing her pioneering approach to epilepsy surgery, was published in the February 2011 issue of Journal of Neurosurgery: Pediatrics.

"There are so many newer and better treatments for epilepsy," Dr. Zupanc said. "In the future, we'll be able to tell parents if the epilepsy is hereditary, how likely a child is to go into remission, and what kind of treatments work best."