CHOC Children's Publications
CHOC Children's Annual Report


Everyone in Orange County is somehow connected to CHOC Children's. If it's not your own children that have been treated by our team of pediatric experts, chances are you know a few that have. Among friends, neighbors, coworkers, even people we encounter in our daily travels—CHOC is a common bond we all share. In this report, you will learn about some of our finest moments.

---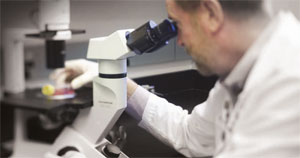 CHOC Researcher Awarded $3 Million to Find Autism's "Fingerprint"

The idea sounds like something straight out of science fiction: taking skin cells biopsied from living donors and reprogramming them into stem cells, and then turning the stem cells into brain cells for research purposes. But that's precisely what CHOC researcher Philip Schwartz, Ph.D., is doing with a five-year, $3 million grant from the National Institutes of Health.
Working in collaboration with the UC Davis M.I.N.D. Institute, Dr. Schwartz is generating brain cells from skin biopsies donated from 100 prescreened autistic boys that will give better understanding into this baffling disorder. With the results, Dr. Schwartz hopes to gain greater insights into the origins of autism, and identify biomarkers that will lead to a definitive diagnostic test — and ultimately effective treatment.
The grant is the largest federally funded, basic science research grant the CHOC Children's Research Institute has ever received. Assisting Dr. Schwartz with this study are David Brick, Ph.D., Hubert Nethercott and Alexander Stover.
Fastest-Growing Developmental Disability in U.S.
Autism spectrum disorders comprise a set of developmental brain disorders affecting social interaction and communication. While still poorly understood, it is the fastest-growing developmental disability diagnosis in the United States.
Currently, autism may only be diagnosed through behavioral evaluation. Yet researchers have longbelieved that brain stem cells obtained from autistic individuals could be used to develop a diagnostic tool and treatment. The challenge was collecting the cells. Previously, they could only be obtained from patients who had passed away. Dr. Schwartz's novel approach has opened up some very exciting possibilities.
"By comparing and contrasting autistic brain cells with normal brain cells, we hope to identify either targets for therapy or targets for diagnosis," Dr. Schwartz said." If we could come up with a biochemical or genetic test, it would shorten the time for diagnosis and make the diagnostic process available to everyone. If we could come up with a therapy as well, then we really will have done something very important."
Dr. Schwartz and his team at the CHOC Children's Research Institute are growing and banking skin cells and the neural stem cells. The resulting cell lines will be available to other researchers, and all data generated by these investigations will be made widely available to the scientific community.