CHOC Children's Publications
CHOC Children's Annual Report


Everyone in Orange County is somehow connected to CHOC Children's. If it's not your own children that have been treated by our team of pediatric experts, chances are you know a few that have. Among friends, neighbors, coworkers, even people we encounter in our daily travels—CHOC is a common bond we all share. In this report, you will learn about some of our finest moments.

---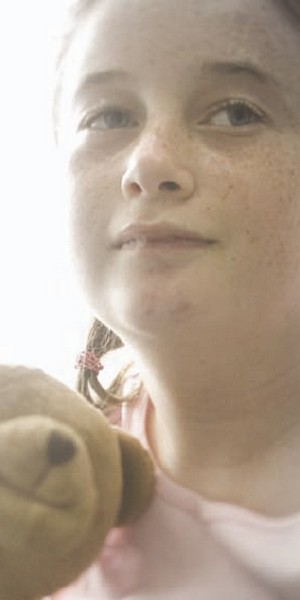 CHOC Children's Institutes

HEART INSTITUTE
Zero Tolerance for a Deadly Cardiac Disorder
"In Orange County, we have the highest per capita of NCAA and Olympic athletes in the nation. It certainly behooves us to protect our athletes by providing adequate screening and a safety net for athletes when they do fall."Anthony Chang, M.D., M.B.A., M.P.H. Medical Director, CHOC Children's Heart Institute
Hypertrophic cardiomyopathy is a condition in which part of the heart muscle thickens, causing the heart to work harder in order to pump blood. It is the most common cause of sudden cardiac death in teenage athletes and known to occur in one out of every 500 people. Still, this deadly condition is vastly under diagnosed because of a general lack of awareness.
That is simply not acceptable to Dr. Chang, medical director of the CHOC Children's Heart Institute. He believes sudden death in young athletes is a public health issue that requires a community-wide response.
In a review of international research, Dr. Chang found evidence that more aggressive pre-participation cardiac screening, CPR training and the availability of automatic external defibrillators at school and athletic events will undoubtedly save young lives. Additionally, such programs would benefit the siblings and parents of athletes diagnosed with cardiac disease, too, because they could then also be evaluated and treated as needed.
In February, Dr. Chang presented those findings to more than 200 Orange County school board members, high school coaches, school nurses, community pediatricians and parents at the second-annual Life Threatening Events Associated with Pediatric Patients in Sports (LEAPS) conference. He chairs the scientific committee of the coalition, which includes concerned professionals from CHOC, the American Academy of Pediatrics, the Orange County Fire Authority and the Orange County Department of Education.
"This comprehensive effort is similar in concept to the space program," Dr. Chang said. "That wasn't just about going to the moon, but about all the dividends that came from a program of that size and scope."
ORTHOPAEDIC INSTITUTE
CHOC Pilots Sports Medicine Program with Irvine Schools
"We have developed the CHOC Children's Sports Medicine Program so school-age athletes may flourish and reach their highest athletic potential, and not be sidelined by injuries that could have been prevented." Afshin Aminian, M.D. Medical Director, CHOC Children's Orthopaedic Institute
Ankle sprains, knee injuries, dislocated shoulders and second-impact concussions — many sports injuries may be completely avoided through pre-season evaluation, training and coaching. The Sports Medicine Program is taking researchdriven, evidenced-based practices to four Irvine high schools through a pilot program with the Irvine Unified School District.
Thanks to support from the Anaheim Ducks' "Lady Ducks," CHOC has outfitted a mobile van with two treatment rooms that will be visiting the high schools to conduct pre-season musculoskeletal evaluations. Injury prevention education will also be provided for all Irvine high school and middle school athletes, families, teachers and coaches.
Our Sports Medicine Program is the only program of its kind providing sports injury prevention, education and rehabilitation for school-age athletes, including nutritional, sports psychology and cardiology consultations. Comprehensive rehabilitation services are available at CHOC Orange and at a newly opened office in Irvine.
CANCER INSTITUTE
From Cancer Survivor to Mom
"If meaningful survivorship is our goal, we need to be thinking about the consequences of the treatments we're about to give someone. We know we have this brief moment before we start chemotherapy to preserve a patient's fertility." Leonard Sender, M.D. Medical Director, CHOC Children's Cancer Institute
Chemotherapy and radiation can save lives, but these treatments also damage reproductive organs. Until recently, the only option for preserving fertility in adolescent girls was to harvest and preserve eggs before starting cancer therapy.
But that process takes weeks. As most adolescent cancers are very aggressive — a patient just can't wait that long.
The Adolescent and Young Adult Program at the CHOC Children's Cancer Institute is offering a new oncofertility research study option for adolescent girls: ovarian cyropreservation. During the procedure, one ovary is laparoscopically removed and cryopreserved at a low-temperature so it can be revived and restored years later.
Oncofertility is a relatively new field of study. CHOC is participating in the Oncofertility Consortium at Northwestern University, a national physician cooperative. Dr. Sender, medical director of the CHOC Children's Cancer Institute, published a chapter earlier this year in the consortium's Oncofertility: Ethical, Legal, Social and Medical Perspectives.
"Young girls may only need to think about fertility 10 years from now, but in that time, the technology will improve and cryopreserved ovary re-implantations will be even more successful," Dr. Sender said. "We are very excited to be participating in oncofertility research, and I believe it will become a major part of our survivor program."
To learn more about the CHOC Children's Institutes, including the Neuroscience Institute, please visit www.choc.org/institutes.