CHOC Children's Publications
CHOC Children's Annual Report


Everyone in Orange County is somehow connected to CHOC Children's. If it's not your own children that have been treated by our team of pediatric experts, chances are you know a few that have. Among friends, neighbors, coworkers, even people we encounter in our daily travels—CHOC is a common bond we all share. In this report, you will learn about some of our finest moments.

---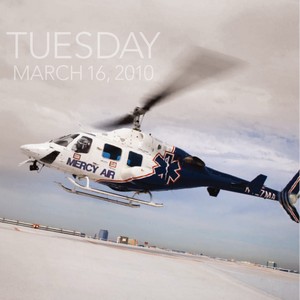 Not a Moment to Spare

The CHOC Children's Pediatric Intensive Care Unit (PICU) was immediately alerted when paramedics brought an unconscious boy into the Hoag Hospital Newport Beach Emergency Department. At CHOC, pediatric intensivist Adam Schwarz, M.D., quickly called over pediatric neurosurgeon William Loudon, M.D., who happened to be on the unit.

In cases like this, time is of the essence. Dr. Loudon, of the CHOC Children's Neuroscience Institute, needed to see CT images of the boy's brain as quickly as possible. He asked for the state-of-the-art robot that links the Hoag Hospital Emergency Department with the CHOC PICU to be rolled over to that hospital's radiology department. This allowed the two CHOC physicians to view the CT images of the boy while discussing the findings with the Hoag Hospital radiologist. The physicians saw that the patient was in serious trouble.

The CT images revealed a life-threatening brain bleed. The physicians suspected that the bleed had resulted from the rupture of an abnormal tangle of vessels in the child's brain called an arteriovenous malformation. The vessels had ruptured, putting pressure on the brain. Without immediate surgical intervention to drain the fluid and relieve the pressure — the boy would likely suffer a deadly stroke within the hour.

The problem was getting the boy to CHOC Orange and into surgery in time. Even on a good day, it's a 30-minute drive from Newport Beach. But this was a Friday at 4:45 p.m. To make it, they would need wings. Instead, they chose rotors.

Within minutes, an air ambulance landed on the CHOC Orange roof. The CHOC Children's Critical Care Transport Team, including a PICU physician, registered nurse and respiratory care practitioner, quickly climbed aboard with medication and two flight bags packed with sophisticated pediatric transport equipment. Meanwhile at CHOC Orange, Dr. Loudon assembled his team in the operating room and prepared for surgery.

Ten minutes later, the CHOC Critical Care Transport Team arrived at Hoag. They quickly stabilized the boy and then flew back to CHOC Orange, where Dr. Loudon and his team were waiting. Less than an hour later, the boy received the surgery that saved his life.

The Second Busiest Transport Team in the Nation
And it's no wonder. The CHOC Critical Care Transport Team literally takes neonatal and pediatric intensive care on the road and, when necessary, into the air. Our transport team is available — at a moment's notice — 24 hours a day. Each ambulance is equipped with hundreds of thousands dollars of specialized medical equipment, offering the team a variety of options depending on each patient's need. This allows our team of registered nurses, respiratory care practitioners and, often, intensivist physicians or neonatologists, to provide the same level of pediatric or neonatal intensive care normally provided within our hospital walls.

CHOC was the first and remains the only hospital in the country to use high-frequency ventilation combined with nitric oxide while transporting critically ill newborns with respiratory distress.

We are capable of transferring patients who are undergoing extracorporeal membrane oxygenation (ECMO) of the heart and lungs. Our transport team is the only one in the Orange County region that can safely transfer a patient who is on a left ventricle assist device (LVAD) while awaiting a heart transplant.

Our ambulances are equipped with some of the most sophisticated medical technology available, and our transport team knows how to use it. Their skill and expertise are unparalleled. No other hospital in the Orange County area has these capabilities, which is why hundreds of hospitals depend on CHOC when they need help caring for the "sickest of the sick."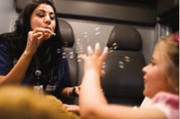 They Wouldn't Leave CHOC Without Them -- Bubbles

You may be surprised to learn that our high-tech CHOC ambulances are stocked with such essentials as stuffed CHOCO bears, children's DVDs and, very important, bubbles.

Our transport team members, who are expert at calming a young child's fears, say bubbles are especially effective. they make every effort to create the most soothing environment possible for a calm, relaxing ride. they'll even sing, and it's not unusual for patients to actually fall asleep during transport. Whatever it takes.