CHOC Children's Publications
CHOC Children's Annual Report


Everyone in Orange County is somehow connected to CHOC Children's. If it's not your own children that have been treated by our team of pediatric experts, chances are you know a few that have. Among friends, neighbors, coworkers, even people we encounter in our daily travels—CHOC is a common bond we all share. In this report, you will learn about some of our finest moments.

---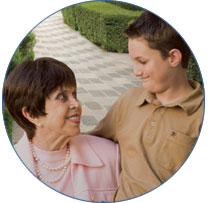 A New Take on Philanthropy

"Giving while living" is becoming popular as more Americans decide to donate money to organizations while they can still enjoy seeing their impact. According to Wealth Report, the foundations that dominated the country's philanthropic scene for most of the 20th century have suddenly taken a back seat to the new breed of living philanthropists.
Nora Hester made a $500,000 gift to create an endowment for the Craniofacial Program at CHOC. The program cares for children with cleft lip and palate; craniostenosis, a skull deformity caused by the premature closure of the cranial sutures; and other genetic and congenital syndromes. The gift was made inter vivos, which means giving amid life. According to Nora, "When you make a bequest, you don't get the satisfaction of seeing how your gift benefits others; you don't get to see what happens." Nora chose to start the CHOC Craniofacial Endowment as a result of an act of kindness by her late husband and former CHOC board member, Charles Hester.
"About 20 years ago my husband and I saw a hospital employee with a disfigured face," Nora says. "After making inquiries, we learned that she could not afford to have surgery. Charley was so moved by her story that he anonymously paid for the woman's treatment." "When I decided to make a gift to CHOC, that memory came to mind and I knew where I wanted to direct my gift."
The complexity of craniofacial disorders requires a team approach involving pediatric specialists in numerous fields, including neurology, genetics, orthopaedics, plastic surgery and ear, nose and throat.
Nora's gift will help countless children at CHOC who are facing craniofacial disorders, while enabling Nora to enjoy the impact of her gift.