CHOC Children's Publications
CHOC Children's Annual Report


Everyone in Orange County is somehow connected to CHOC Children's. If it's not your own children that have been treated by our team of pediatric experts, chances are you know a few that have. Among friends, neighbors, coworkers, even people we encounter in our daily travels—CHOC is a common bond we all share. In this report, you will learn about some of our finest moments.

---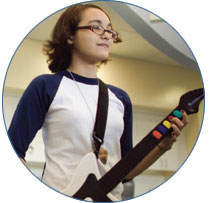 New Outpatient Infusion Center Helps Kids Avoid Hospitalization

Research has shown that treating children on an outpatient basis, whenever possible, can promote faster recovery times and enhanced well being. Now, thanks in part to a generous $1 million gift from the Dhont Family Foundation, CHOC patients requiring chemotherapy and other types of medications can receive their treatments on an outpatient basis, avoiding hospital admission and an overnight stay.
This spring, the Dhont Family Foundation Outpatient Infusion Center (OPI) opened its doors within the newly renovated Ambulatory Care Center at CHOC. The OPI features 20 outpatient infusion stations, including two isolation rooms and two procedure rooms. Amenities in this state-of-the-art center include a recreation therapy area with a dedicated child life specialist and books, televisions, DVD players and videogame consoles at each station. Benefiting from the healing power of play, patients can receive their treatments in a comfortable and entertaining environment, then be on their way home in a matter of hours.
Nearly 70 percent of the children who will benefit from the OPI are cancer patients who previously had to be admitted to the hospital for their treatments.
The Dhont Family Foundation was founded in 1998 by Andre and Eveline Dhont, who immigrated from Belgium nearly 50 years ago. After realizing the "American Dream" through hard work and persistence, they developed an incredible desire to give back to the community. Today, the foundation is overseen by son Andre Dhont and continues to provide assistance to community and children's programs.
"My parents received so much from the community," says Dhont, "and their wish was to make sure we took care of the community in return. This is exactly where they would want to help. They would be happy to know that they are making so many children's medical treatments a little bit easier."
Additional funding for the Dhont Family Foundation Outpatient Infusion Center was supplied by the O.L. Halsell Foundation and the McBeth Foundation.