CHOC Children's Publications
CHOC Children's Annual Report


Everyone in Orange County is somehow connected to CHOC Children's. If it's not your own children that have been treated by our team of pediatric experts, chances are you know a few that have. Among friends, neighbors, coworkers, even people we encounter in our daily travels—CHOC is a common bond we all share. In this report, you will learn about some of our finest moments.

---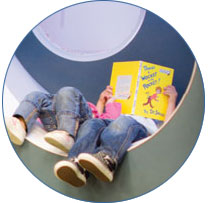 Disneyland? Resort Gives the Gift of a Healthy Tomorrow

Walt Disney will always be regarded as one of the greatest visionaries of the 20th century. Although he's most famous for his creative talents, CHOC remembers him in another very special way. Nearly 50 years ago, a group of citizens saw the need for a hospital dedicated solely to children to serve the growing youth population of Orange County—and Walt Disney led the charge.
Since then, CHOC has enjoyed a long-standing partnership with the Walt Disney Co. and the Disneyland® Resort—both of which have served as amazing examples of corporate philanthropy and volunteerism. For the past four decades, Mickey Mouse and friends have visited CHOC, bringing joy, hope and smiles to children. And at our annual holiday parties and special events, Disney characters and countless Disney VoluntEARS help CHOC patients forget their illnesses for a moment and "just be kids." In 2002, the annual CHOC Walk—CHOC's beloved and successful community fundraising event—found a new home at the Disneyland Resort and was renamed the CHOC/Disneyland Resort Walk in the Park. Today, the event raises nearly $2 million annually with the help of over 15,000 walkers and volunteers. And patients at CHOC who are unable to participate in the event because of their illnesses don't have to miss out on the fun and excitement. Minnie Mouse and friends trek through the halls of the hospital, hand-in-hand with patients at the annual "Minnie Walk" —a mini-version of the CHOC/Disneyland Resort Walk in the Park. During the Disneyland Resort's recent 50th birthday celebration, the Walt Disney Company, and Disneyland Resort once again demonstrated their unwavering support for CHOC with a $1 million gift. This generous donation has helped fund the renovation of CHOC's Ambulatory Care Center, providing patients with leading-edge care in a state-of-the-art outpatient facility.
"CHOC and the Disneyland Resort share a commitment to children and families," says Ed Grier, President of the Disneyland Resort and CHOC Board member. "We value our significant partnership, established almost 50 years ago by Walt Disney himself, because we understand the important role that CHOC plays in our community. We are pleased to continue our support of the hospital as it strives to meet the growing medical needs of Orange County's children."
Ambulatory Expansion Complete
The renovation of the Ambulatory Care Center, which houses CHOC's Primary and Specialty Care Clinics, was a response to the skyrocketing numbers in patient visits to CHOC's onsite clinics in recent years. Within the past five years alone, primary and specialty care clinic patient visits at our Orange campus have doubled to reach nearly 95,000 annually. With market trends and current volumes indicating that visits to the hospital's onsite clinics will increase to over 120,000 by the year 2010, growing and expanding the Ambulatory Care Center allows CHOC to continue to meet the demands of Orange County's pediatric population for years to come. The completed facility is capable of handling more than 130,000 patient visits per year.
Completed in three phases, the new 6,500-square-foot CHOC Ambulatory Care Center boasts 85 primary and specialty care and treatment areas including two outpatient radiology suites and a two-chair dental clinic. The Disneyland Resort Ambulatory Care Center Main Lobby welcomes patients and their families in a fun and comfortable atmosphere.
Additional funding for the Center was provided by the Annenberg Foundation, the Rothschild Family Foundation and Galkos Construction, Inc.