CHOC Children's Publications
CHOC Children's Annual Report


Everyone in Orange County is somehow connected to CHOC Children's. If it's not your own children that have been treated by our team of pediatric experts, chances are you know a few that have. Among friends, neighbors, coworkers, even people we encounter in our daily travels—CHOC is a common bond we all share. In this report, you will learn about some of our finest moments.

---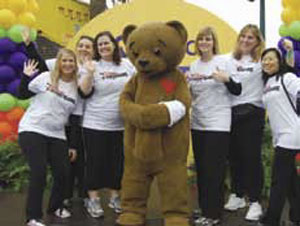 Change CHOC, Change the World

CHOC is inviting the community to help us make Orange County the safest and healthiest place for children. Through the "Change CHOC, Change the World" campaign, we are raising $125 million in philanthropic funds for the creation of the new CHOC Children's tower and the advanced services it will house. Thanks to those donors who have so generously supported this effort so far, as of June 30, 2011, we have raised over $95 million towards CHOC's campaign goal.

As you can see, there is still a great need for continued community support in order to achieve our $125 million goal by June 30, 2013. To donate to the campaign and follow our exciting progress, please visit www.choc.org/giving.

20 Years of Miracles and Magic
In October 2010, CHOC celebrated a very special anniversary with literally thousands of supporters who share our passion for pediatric care. The 20th Annual CHOC Walk in the Park, presented by the Disneyland Resort, raised $2.1 million for our hospital.

"Fifty years ago, Walt Disney began a relationship with CHOC and today we are celebrating 20 years of CHOC Walk memories and successes," said George A. Kalogridis, president of Disneyland Resort and CHOC Board Member. "The Disneyland Resort has been a sponsor of this special event from the beginning and I am proud of our continued partnership in making a difference for so many families. Our support of CHOC truly furthers our mission to create happiness and make dreams come true."

CHOC Cherishes Children Gala
CHOC Children's honored both the Anaheim Ducks and the Lady Ducks with the Children's Champion Award at its CHOC Cherishes Children gala, held in January 2011. The Ducks were acknowledged for their long-standing partnership with CHOC Children's, supporting the hospital through fundraising and countless patient visits, including bringing the 2007 Stanley Cup to the hospital. In addition to the awards presentation, the evening featured a cocktail reception, dinner, entertainment and a live auction, raising $606,000 for the "Change CHOC, Change the World" campaign.

2011 CHOC Follies
Nearly 100 of Orange County's business, civic and society leaders helped raise $522,356 by performing in CHOC Follies XIV: A Funny Thing Happened on the Way to the Follies," in March 2011. Proceeds from this year's production will support a radiology waiting room, which will occupy over 1,000 square feet of space in CHOC Children's new patient care tower. The Follies have raised more than $5 million for CHOC since 1998.