CHOC Children's Publications
CHOC Children's Annual Report


Everyone in Orange County is somehow connected to CHOC Children's. If it's not your own children that have been treated by our team of pediatric experts, chances are you know a few that have. Among friends, neighbors, coworkers, even people we encounter in our daily travels—CHOC is a common bond we all share. In this report, you will learn about some of our finest moments.

---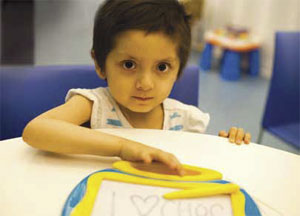 Looking for Cancer's
"Needle in the Haystack"
The Hyundai Cancer Institute at CHOC Children's is one of the few places in the country conducting genomic research into pediatric malignancies. A human genome contains an individual's complete set of DNA, including all the genes. Genomic medicine is the study of how all those genes function and interact with each other. Researchers believe genomic medicine may hold the elusive clues they have been looking for to understand what causes healthy cells to turn into cancerous ones.

At CHOC, researchers will be comparing tumor DNA with the patient's original DNA to identify the underlying changes that have occurred.

"We are looking for the needle in the haystack, but a tumor is a new change to the original DNA," said Leonard Sender, M.D., Medical Director of the Hyundai Cancer Institute at CHOC Children's.
We are curing 80% of all pediatric cancers, and the genomic cancer research program is focusing on the remaining 20%. These patients do not have time to sit around and wait for a cure. We must find out what we can do for them today. — Dr. Sender
With this new data, CHOC researchers may be able to identify the weaknesses of a particular tumor. Dr. Sender said this information will lead to an even more sophisticated and targeted treatment approach for children with the rarest, most difficult cancers.

Hyundai Names Cancer Institute
CHOC Children's received $10 million from Hyundai Motor America and its nonprofit organization Hyundai Hope on Wheels. This is the largest corporate gift in hospital history and will be used to fund the groundbreaking pediatric cancer research, including the latest advances in genomic medicine. In recognition of this gift, the hospital's cancer center has been renamed the Hyundai Cancer Institute at CHOC Children's.