CHOC Children's Publications
CHOC Children's Annual Report


Everyone in Orange County is somehow connected to CHOC Children's. If it's not your own children that have been treated by our team of pediatric experts, chances are you know a few that have. Among friends, neighbors, coworkers, even people we encounter in our daily travels—CHOC is a common bond we all share. In this report, you will learn about some of our finest moments.

---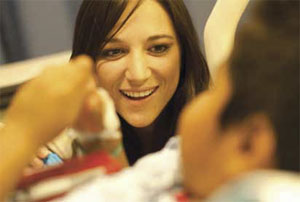 From Fear to Fun

It's been more than 10 years, but Shanna Roenicke still clearly remembers the day she was diagnosed with acute myelogenous leukemia. She was taken into a hospital room with about 10 doctors and nurses. The experience was overwhelming.

"I'd never been in a hospital before," Shanna recalled. "It was culture shock — a whole different world of monitors, IV poles and all these machines beeping."

The hospital where Shanna was treated did not offer Child Life Services, certified professionals trained to help patients and families cope with the anxiety and stress of a hospitalization. There was no one to explain what was happening in a way she could understand. Shanna was terrified.

"I love that we can support patients undergoing procedures and help them feel more comfortable and safe," Shanna said. "It is so important for kids to understand the hospital environment and world they have entered, so they can make sense of it. I would have loved it if someone had come in that first day to talk to me and explain what was happening to me in terms a 14-year-old could understand."
When I sit down with a family for the first time, I can see the look on their faces when they understand how Child Life Services will help their child get through the hard times. It's great.
But she was also one of the fortunate ones. After eight months of intense hospital treatment, Shannon went into — and has remained in — remission. During Shanna's junior year in college, a friend from Camp Ronald McDonald called and said, "You need to become a child life specialist."

Shanna had never heard of Child Life Services. Intrigued, she went online to learn more and immediately fell in love with the profession.

"The first time I walked into CHOC, I called my Mom and said, 'Mom, this is it. I am home,'" Shanna said. She has been working part-time at CHOC since October 2010.

Shanna says the most important part of being a child life specialist is helping patients and families address the emotional pain that comes from such a traumatic experience.

"I tell them, 'I am a support system for you. I am here to help you understand what is going on in the hospital and decrease your stress,'" she said. "When I sit down with a family for the first time, I can see the look on their faces when they understand how Child Life Services will help their child get through the hard times. It's great."

CHOC Child Life Services also provides education and emotional support for siblings. Shanna well remembers how her own hair loss and 86-pound appearance frightened her siblings years ago when they visited her in the hospital.

"We sit down with siblings and explain the diagnosis, physical changes they may see, and the equipment in the room," Shanna said. "We explain how all the equipment is there to help and protect, and their brother or sister is safe and not alone."