CHOC Children's Publications
CHOC Children's Annual Report


Everyone in Orange County is somehow connected to CHOC Children's. If it's not your own children that have been treated by our team of pediatric experts, chances are you know a few that have. Among friends, neighbors, coworkers, even people we encounter in our daily travels—CHOC is a common bond we all share. In this report, you will learn about some of our finest moments.

---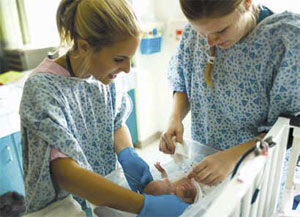 Nicu Babies Speak Up

At the CHOC Children's at Mission Hospital Neonatal Intensive Care Unit (NICU), staff posts special cards at each bedside. Describing exactly what parents need to know about holding and interacting with their baby, it's explained from the baby's point of view and based on his or her gestational age.

Gestational age measures a premature baby's age from the first day of the mother's last menstrual period to the day of birth. It is an important distinction because two babies could be the same chronological age, which is measured from birth, yet have vastly different needs. The brain and sensory system of a 2-week-old infant born six weeks prematurely will not be as developed as that of a 2-week-old baby born at full term.

The gestational age cards, produced in two-week intervals, explain how parents can interact with their newest member of the family in a way that is not overwhelming to the baby.

Stellar Satisfaction Scores
The most important day is the one when a family gets to take their baby home. The CHOC Mission NICU is receiving higher satisfaction scores than ever before as a result of participating in a two-year, collaborative study to improve the discharge process. CHOC is a member of the Vermont Oxford Network, a nonprofit collaboration of healthcare professionals that collects quality improvement data from more than 850 neonatal intensive care units worldwide.


Family-centered care is a partnership... the better the communication and continuity of care, the better the ourcomes.
As part an improvement initiative, CHOC Mission nurses called parents of discharged patients to ask about ways to improve the neonatal experience. This identified the need to streamline hospital communications to ensure consistency of information, particularly regarding breastfeeding, and continuity of care.

Based on their results, the nurses created step-by-step guidelines for both parents and nurses. The nurse guidelines detailed for staff exactly which educational information to share with parents, and where to find the resources within the NICU. Additionally, portable DVD players were purchased so parents could watch educational programs at the bedside — without spending a single precious moment away from their baby.

The step-by-step guide also takes special care not to introduce new educational information during the last 48 hours of the hospital stay. The goal is for parents to relax with their baby during the last two days so they can go home feeling confident and capable.

"Family-centered care is a partnership," said CHOC NICU Clinical Nurse Specialist Liz Drake, M.N., R.N. "Every baby in our unit has a primary nurse who gets to know the baby and the family, and vice versa. The better the communication and continuity of care, the better the outcomes."

$2.5 Million NICU Expansion
Construction will be completed on the expanded NICU by July 2012. The $2.5 million project will add six new dedicated NICU beds, which are needed to meet increasing regional demand for this highly specialized care. Plans also include modification of the existing isolation rooms, and formula and lactation rooms.

Bonding Time
Kangaroo care is holding a sick or premature baby skin-to-skin — usually against a parent's chest. Studies show this kind of bonding has many health benefits for these babies, including higher blood oxygen levels, improved sleep, improved breast-feeding and improved weight gain.

It's good for parents, too. Kangaroo care promotes bonding and boosts parenting confidence. Mothers showed improved breast milk production. Our NICU experts promote skin-to-skin contact with even the most fragile little patients, including extremely low birth weight babies and those on ventilators.