CHOC Children's Publications
CHOC Children's Annual Report


Everyone in Orange County is somehow connected to CHOC Children's. If it's not your own children that have been treated by our team of pediatric experts, chances are you know a few that have. Among friends, neighbors, coworkers, even people we encounter in our daily travels—CHOC is a common bond we all share. In this report, you will learn about some of our finest moments.

---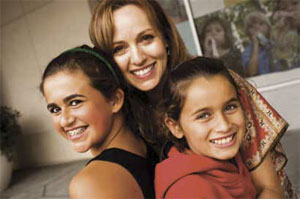 Sweet Victory
A Big Win for Little Hearts
David and Andrea Saenz never expected what happened after their infant daughter's umbilical cord was cut. Tiny Sabrina Saenz started turning blue.

Sabrina was diagnosed at CHOC Children's with Tetralogy of Fallot, a congenital heart condition. Sabrina has been under the care of CHOC pediatric interventional cardiologist Farhouch Berdjis, M.D., and pediatric cardiothoracic surgeon Richard Gates, M.D,. ever since.

Tetralogy of Fallot occurs in about five out of every 10,000 babies and is one of the more complex cardiac disorders. It involves four structural defects inside the heart that prevent normal blood flow from the right side of the heart into the lungs.

Sabrina's only treatment option was a pulmonary valve replacement. To get it, she had to undergo open heart surgery when she was just a week old. However, these valves cannot last forever, and Sabrina went back into the operating room again when she was 3.

Last year, Sabrina was due for another valve replacement. This time, Dr. Berdjis was able to offer Sabrina a non-surgical alternative that may ultimately reduce the number of heart surgeries she'll have to endure.


Melody TPV is an example of the groundbreaking therapies that make CHOC a leader in pediatric medicine, and we are extremely proud to be at the forefront of this technology.
The Medtronic Melody® transcatheter pulmonary valve (TPV) therapy is the first transcatheter heart replacement to receive FDA approval as a humanitarian device for adults and children with narrowed or leaky pulmonary valves. CHOC is one of only 20 centers in the nation providing this minimally invasive "hybrid" alternative to open heart surgery.

"Dr. Berdjis is always going to international conferences, and he had been telling us about the Melody TPV ever since it became available in France," Andrea said. "He wanted to be able to offer it here to us, and he worked very hard to bring the Melody procedure to CHOC."

Melody valve patients receive the same pulmonary valve as they would through conventional open heart surgery, but during this procedure there is no opening of the patient's chest cavity or use of a heart-lung bypass machine. This reduces the risk for infection and greatly shortens the patient's recovery time.

Dr. Berdjis placed the Melody TPV by threading a catheter up to hear heart through a small incision in her leg. Throughout the entire procedure, Dr. Gates was also there, and ready to step in if unexpected complications arose.

The procedure was a success. After an overnight stay at CHOC, Sabrina was back to her normal activities within a week.

Within weeks of the procedure, Sabrina was playing on her school's volleyball team. This year, she's turned her attention to competitive cheerleading. She attends an intense two-anda- half-hour practice three times a week, and also works out at the gym for additional strength training.

"CHOC has amazing facilities," Andrea said, "and we didn't have to go anywhere. We appreciate the convenience of having a top-notch hospital right here in our backyard."