CHOC Children's Publications
CHOC Children's Annual Report


Everyone in Orange County is somehow connected to CHOC Children's. If it's not your own children that have been treated by our team of pediatric experts, chances are you know a few that have. Among friends, neighbors, coworkers, even people we encounter in our daily travels—CHOC is a common bond we all share. In this report, you will learn about some of our finest moments.

---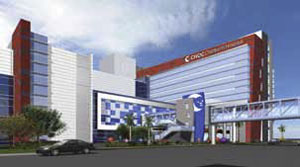 One of The Safest Hospitals in the Nation

The new CHOC Children's patient care tower represents a major investment in quality and patient safety, as well as our ability to deliver the most advanced healthcare to all the children we serve.

CHOC Children's was one of the first hospitals in the nation to address human-related errors by implementing a patient safety and quality improvement department with a medical director who is also a critical care pediatric specialist. Our new patient care tower will take patient safety to the highest level.

Safety By Design
When a child is critically ill, physicians, nurses and other clinical team members must respond quickly, without hesitation or error. Standardized processes and design elements built into our new patient tower will help our team perform vital functions flawlessly.

Other industries, including aerospace, aviation and manufacturing, have successfully incorporated standardization into function and design. CHOC is one of the first children's hospitals anywhere to borrow some of these innovative design elements that emphasize safety and routine, controlling the variable factors that may lead to human error.
Standardized, "same-handed" patient rooms with supplies and equipment located in exactly the same place — improving patient safety since staff are familiar with the layout.
Private patient rooms can stop the spread of infection and allow physicians, nurses and other hospital staff to focus more intently on individual patient needs.
Built-in nursing alcoves outside the patients' rooms, allow our nurses to keep patients within sight.
The new CHOC patient care tower was designed with built-in flexibility necessary to accommodate future changes in diagnostic and treatment procedures.
Infection Control
Private rooms are only the first step. Flooring materials, wall coverings and ceiling tiles have been chosen specifically to safeguard vulnerable patients, particularly those with compromised immune systems, from infection, molds and fungi.

Health Information Technology
CHOC is leveraging the possibility of health information with decision-support technology that assists physicians and our clinical team in providing the safest, most comprehensive treatment. Our physicians can now instantly see continuously updated patient information, including vital signs, medications, lab results and so much more. This enhanced communication is providing a better picture of each patient, with built-in features that reduce the possibility of error.

Vibrant, Healing Space
The CHOC patient care tower will not look or feel like a hospital. The vibrant yet serene ambiance is part of the overall design strategy to provide the least stressful atmosphere possible for patients and families. Each individually themed floor features colors and design elements to help patients relax — and make it easier for families and visitors to find their way around the facility.

The second floor showcases our enhanced patient and families amenities, which have been designed with input from our parent and youth advisory councils, as well as CHOC physicians and staff. These private and public spaces are intended to be playful and engaging, while respecting the diversity of the patients and families we serve:
Spacious Lobby
Pre-teen and Teen Rooms
Patient Outdoor Play Area
Family Resource Library
Café and Outdoor Garden
Music Therapy Room
Meditation and Prayer Center
Gift Shop
Key Tower Facts
Seven stories
426,000 square feet
Cost is approximately $560 million
Orange County's only dedicated pediatric emergency department with 31 emergency treatment rooms
Robert L. Tidwell Surgical Center with seven operating rooms and five minor procedure suites
The CHOC Children's Heart Institute with two cardiac catheterization labs and one hybrid OR
28 private hematology/oncology acute care patient beds
Diagnostic imaging services
Clinical laboratory services
Shelled space to accommodate future needs