CHOC Children's Publications
Kid's Health (Archive)


Our award-winning Kid's Health Magazine is designed to provide healthful information for your growing child. Please Note: Kid's Health Magazine is no longer being printed. Please visit our blog at http://www.choc.org/blog for the latest articles about your child's health from the experts at CHOC Children's. You can also receive our electronic Kid's Health newsletter in your inbox by subscribing to our mailing list: http://www.choc.org/subscribe

---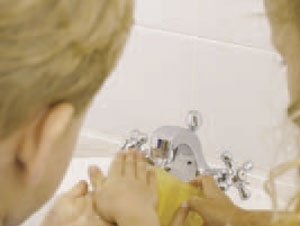 Take a Recess from Cold and Flu Bugs

Your young scholar brings home a gold star … and a bad bug. While there's no protection against every germ at school, there are ways to reduce the risks.

Cold vs. Flu
Together, Americans suffer 1 billion colds each year. Most strike between late August and early April. That's when people spend more time in school and indoors, close to others who may be infected. Your child might have a cold if he or she has a stuffy, runny nose, a sore throat, a hacking cough or sneezes frequently.

The flu spreads when an infected person coughs or sneezes. Signs of the flu include fatigue and weakness, a high fever, severe aches and pains, headache and a cough.

Tips to Stay Healthy
Remind your children to wash their hands often. Place travel-size hand sanitizer in their backpacks. Postpone play dates with sick kids. Also consider getting your child a flu shot.

The Centers for Disease Control and Prevention recommends yearly flu shots for all children ages 6 months and older. The best time to get the shot is October or November.