CHOC Children's Publications
Change CHOC, Change the World Campaign Newsletter


CHOC Children's Launches Campaign to Fulfill Destiny of the Hospital

---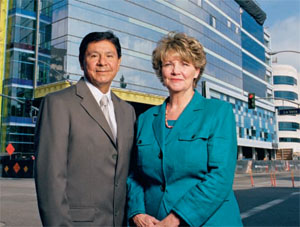 Building the Tower from the Inside Out
Once the patient-care tower is finished, how do you bring it to life?
CHOC Children's new patient-care tower strikes an impressive form with its massive footprint and wonderfully playful color scheme. The physical presence of the building, however, is only half the story. The building will spring to life by what gets put into it.

According to Debra Mathias, CHOC's executive vice president and chief operating offificer, this tower will become fully alive only when it is teeming with a unique combination of talented people, innovative technology, and child-focused services— all coming together to make Orange County one of the safest places for children in the nation.

While the tower is being erected from the ground up, behind the scenes there are scores of people and numerous teams working in tandem to build the tower from the inside out. Such a multifaceted approach is essential when building comprehensive services geared to a specific population: children and their families.

CHOC's transition and activation plan for the new tower is a road map to operationalize the tower before it opens in Spring 2013. This multiyear strategy aims to create an optimal plan for operating every department, program, service, and piece of equipment in the tower. The transition and activation plan also addresses how to effectively combine the new tower, and all that it holds inside, with the existing facility so they function together effectively and seamlessly. The plan's number one goal: to assure and maintain the safety of CHOC's precious patients and their families. And that's why starting in Fall 2012, when the construction is substantially complete, there will be training drills with mock patients and months of orientations to perfect the processes prior to the tower's public debut.

"All of those workflow plans have to work together and integrate with all the existing departments," says Mathias. "We'll have to answer things like, 'Is there going be a respiratory therapist in the OR?' No, because those kids are all under anesthesia. 'Are there going to be two respiratory therapists in the emergency department?' Of course–24/7. Kids get respiratory problems all the time. The complexity of developing new programs and services at the level that we're doing takes thousands of work hours and hundreds of people with expertise in taking care of kids."

While the idea of a transition plan may not be exclusive to CHOC—many organizations undergoing major transformations utilize such plans—what is unique is that CHOC is not only opening a new building but activating new services. Since CHOC opened more than forty years ago, it has been sharing operating rooms, emergency, laboratory, pathology, imaging, and radiology services with neighboring St. Joseph Hospital. All of these vital services will now be in the new tower, allowing CHOC to operate independently for the first time. CHOC must build and control these core services and the continuous learning they enable in order to make the leap to world-class and to recruit the caliber of medical talent required to sustain it.

With the added services and increasing capacity to serve patients comes a need to hire hundreds of new staff. CHOC will hire more than 300 associates to work in the new and currently existing departments—everything from housekeeping, dietary, and environmental to social services and information technology. "Why so many new people? Because CHOC is doubling its services," says Mathias. "Every department will grow to accommodate the new volume and the new staff, supporting the idea of CHOC becoming totally independent."

"CHOC is one of only forty-four freestanding children's hospitals in the U.S. Having a new, fully integrated children's hospital is critical. That's the core story for me, and that is where we are going," says Mathias.