CHOC Children's Publications
Physician Connection


A Communication Service for Physicians from CHOC and CHOC at Mission. Please Note: Physician Connection is no longer being printed and is now available electronically. Please visit our blog at http://docs.chocchildrens.org for the latest articles for our physician community. You can also receive our electronic Physician Connection newsletter in your inbox by subscribing to our mailing list: http://www.choc.org/subscribe

---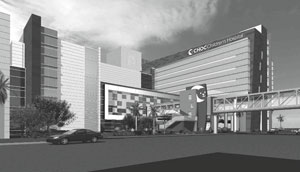 $30 Million Gift Helps Change CHOC

His original intention was to donate a computer to CHOC Children's. But after touring our hospital and meeting some of our patients, Robert L. Tidwell did more than that. The Garden Grove man decided to leave his entire estate to CHOC — at $30 million, the largest gift in the hospital's history.

This single, generous gift has put CHOC 80 percent of the way toward meeting the goal of raising $125 million for the "Change CHOC, Change the World" fundraising campaign.

Before passing away in 2009, Mr. Tidwell expressed his confidence in CHOC's ability to use his money well. His gift will be balanced between expansion needs and the future investment needed to make CHOC one of the safest and healthiest places for children in the nation:
$15 million will support the CHOC Master Campus Plan, which includes construction of the state-of-the-art, seven-story patient care tower set to open in Spring 2013. CHOC will recognize Robert L. Tidwell by naming the surgery center in the new patient care tower in his honor.

$15 million for a Board-Restricted Fund will support CHOC's vision and priorities by advancing pediatric medicine through clinical program development; recruiting leading pediatric experts, including physicians, clinicians and researchers; and funding the Robert L. Tidwell Endowment for Ophthalmology.
For more information about the "Change CHOC, Change the World" campaign, please visit www.choc.org/giving.

Tower Making Notable Progress
Construction of the new tower is 70 percent complete. Activation of new programs in the tower is underway, including detailed operational and staffing plans for new services, including radiology, ultrasound, CT scan, MRI, lab, pathology, blood bank, cath lab, emergency, and OR. The development of processes necessary to move toward an improved model of care delivery is also in progress.

In July 2011, the build-out of the new Emergency Department will begin and is scheduled for completion in September 2012. This work will have a significant impact to CHOC's current main lobby, which will become part of the future ED.

For construction updates and questions, please call the Expansion Hotline at 714-532-8710 or visit www.choc.org/expansion.