CHOC Children's Publications
Change CHOC, Change the World Campaign Newsletter


CHOC Children's Launches Campaign to Fulfill Destiny of the Hospital

---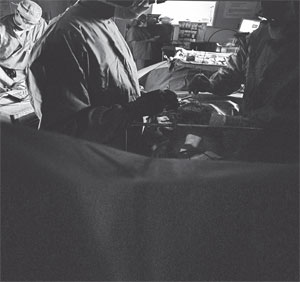 Hoag Says CHOC Is "The Place" for Children in Orange County
Partnership will drive research and new cures locally, nationally, globally
After years of working through complex details, CHOC Children's and UC Irvine, including its school of medicine, have completed an historic affiliation agreement that integrates their comprehensive pediatric clinical services, innovative research, and teaching programs. The collaboration between CHOC and UC Irvine, one of our nation's most prolific academic and researchpowerhouse universities, brings new hope to families with chronically ill children.


The affiliation is a key factor in CHOC's ability to continue its transformation from an invaluable community asset into a nationally recognized premier children's hospital. In addition, the collaboration of these local institutions enables Orange County to join the ranks of cities like Philadelphia, Boston, Cincinnati, and Houston—leading centers of innovation in pediatric medicine.


Through the agreement, UC Irvine and CHOC Children's are aligning their research programs to produce more treatment options, pediatric clinical trials, and strategies for cures. The residency and fellowship programs of the two institutions will be integrated into a new program under UC Irvine School of Medicine sponsorship, with most of the clinical training occurring at CHOC. This will provide a more comprehensive environment to train and mentor pediatric subspecialty doctors and medical students.


The affiliation also helps address a critical shortage of pediatric subspecialty doctors in Orange County. Since so few of these specialists are board-certified each year, the competition to recruit them is fierce. Such physicians are drawn to hospitals with university medical school affiliations giving them opportunities to teach, apply emerging science, conduct research, and access clinical advances to improve patient outcomes. Now the combined capabilities of CHOC and UC Irvine promise to provide a more competitive platform from which to recruit. Much is at stake. The addition of a single doctor can bring unique, new competencies to a hospital to better support children with complex medical needs.


Children and families are already feeling the value of this affiliation. CHOC Children's provides inpatient and outpatient pediatric specialty care to patients, while UC Irvine Medical Center continues to provide pediatric emergency services, burn care, trauma services requiring immediate surgery, neonatal intensive care, newborn nursery care, and child and adolescent psychiatry. Through this sharing of services, CHOC is expecting an additional 4,800 outpatient visits each year.


CHOC and UC Irvine remain separate institutions, but their strategic affiliation will transform the delivery of pediatric care in Orange County and beyond.